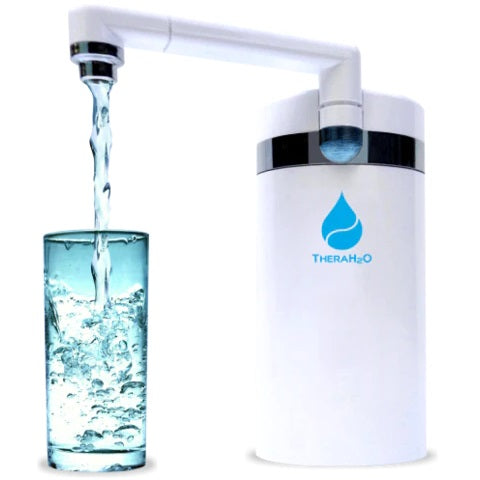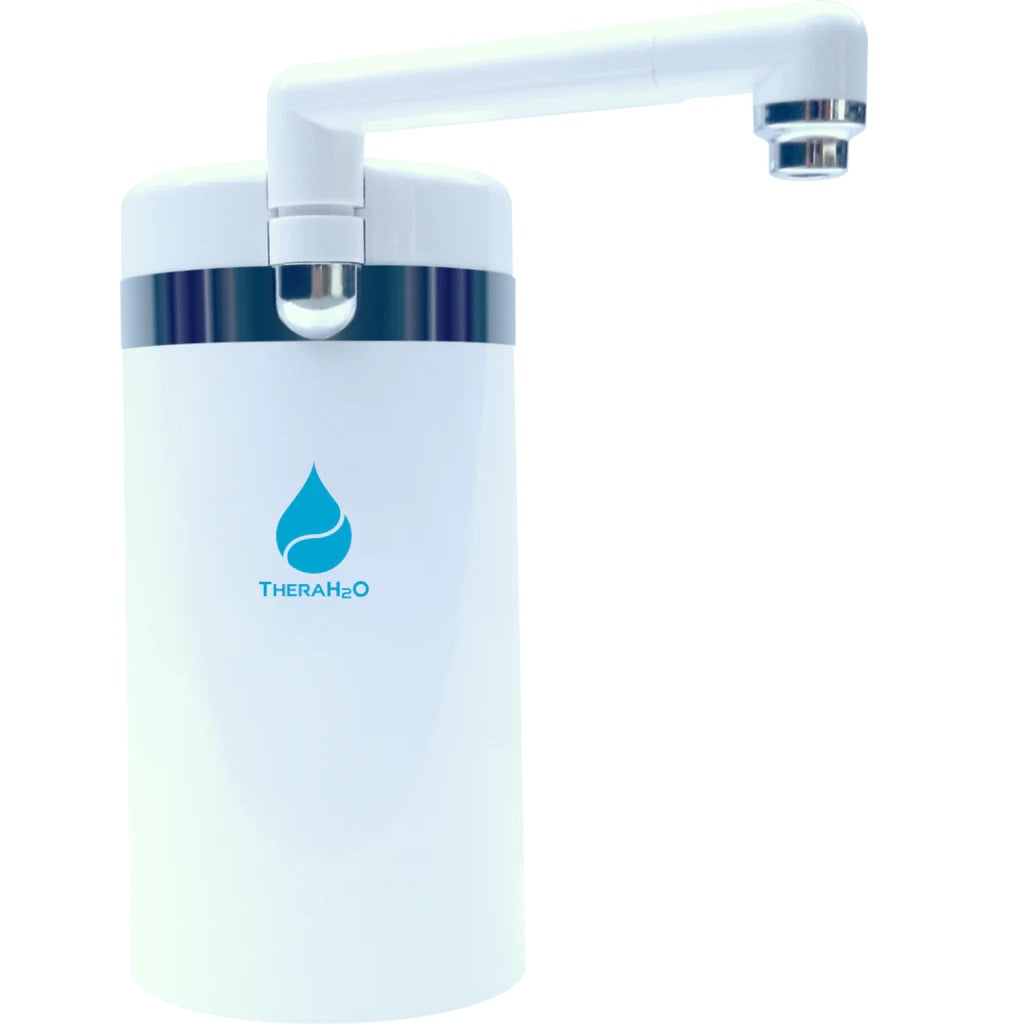 TheraH2O Counter Top Water Purification
TheraH2O filters away fluoride, chlorine, and other impurities while also permanently absorbing metals like lead and copper, resulting in water that is healthful, clean, refreshing, and thirst-quenching. Increases active hydrogen while removing limescale.

HEALTHY BENEFITS:
☀ Enhanced Cellular Hydration
☀ Greater potentiating water for tea or coffee
☀ Filters most of the particulates and contaminates and environmental toxins
☀ Filters most of the bacteria
☀ Filters Chemicals, VOCs, Florides, Chlorine, Arsenic
☀ Filters Heavy metals, Lead, Mercury, Cadmium
☀ Reduces lime scale, mold, and fungi
☀ Negative Charge (ORP) - reduces oxidative stress
☀ Crystal Clear
☀ Great tasting and odorless
☀ Great to enhance weight loss programs
☀ Great for enhancing nutritional absorption
TheraH2O produces clean, alkaline, silky-smooth, delicious water that is safe to consume and cook with.
TheraH2O filters away fluoride, chlorine, and other impurities while also permanently absorbing metals like lead and copper, resulting in water that is healthful, clean, refreshing, and thirst-quenching. Increases active hydrogen while removing limescale.
TheraH2O decreases the size of water molecules to produce water that is easily absorbed and improves Advanced Cellular Hydration (ACH).
TheraH2O sophisticated water purifying systems by LifeForce Health Group
We soften our water and infuse negative ions, restoring pH balance, using activated carbon and specific paramagnetic minerals, to assist the body in neutralizing excessive and damaging free radicals.
Improved Cellular Hydration
TheraH2O uses cutting-edge Infrared technology to restructure the water and maximize absorption, just as nature intended.
TheraH2O Alkaline Anti-Oxidant Water provides increased alkalinity, resulting in more live, healthful water. A greater PH level promotes better body equilibrium.

FEATURES &SPECIFICATIONS:

Meets International standards for environmental compatibility and standards
This product is manufactured in a quality-inspected facility, internationally certified by SGS, and ANSI. Meets EPA-tested standards. Tested for Bio Compatibility and material toxicity.
Natural Gem Stones technology for maximum transfer of natural energetics
Infrared materials for restructuring and reordering the water - 4th-Phase Water
Vortex - to add vitality and energy
8 Stage Filtration
Long-life filter cartridge - 1000 gallons or approximately 12 months of normal use
Removes heavy metals, particulates, most VOC, and chemicals
Costs pennies per gallon
Natural Alkaline - approximately 7.6 PH
Enhanced Cellular Hydration
Negative Ion - to improve the potentiation and absorption of the water
Earth Element technology - to rebalance and mineralize the water
Space-saving elegant design
Everything you need to set up and use is in the box, no plumbing is required
Excellent Customer Service and support
Additional replacement filters are available
Adjustable articulating arm - for ease of delivery on most countertops
Dimensions: 9"Circumference x 14"H
Actual CounterTop Weight: 4 lbs
Shipping Weight: 10 lbs
One-Year Limited Manufacturer's Warranty
LifeForce Health Group - TheraH2O advanced water purification systems