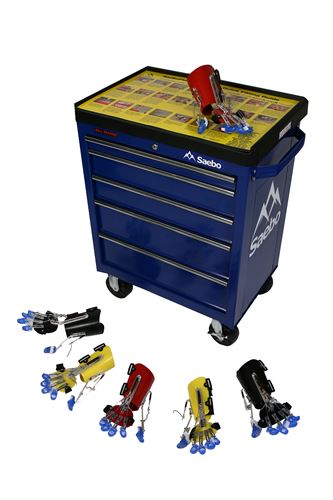 Saebo 5 Orthosis Evaluation and Treatment Kit with Gross Motor Equipment products
A complete hand functionality treatment This therapy rehab training gaming system can accelerate physical and cognitive rehabilitation after a stroke. program injury
Saebo's Functional Dynamic Neurological Orthoses, including the ground-breaking SaeboFlex®, allow patients with very little residual hand function to immediately begin performing mass grasp and release activities, thereby forging new pathways in the brain.
Recent research indicates that clinically meaningful and long-lasting effects on motor function can be achieved when patients suffering from neurological injuries, such as stroke, receive repetitive arm training during the acute phase.
Program Benefits
Maximise the patient's functional recovery due to early initiation of treatment
Enable patients to immediately incorporate their hand functionally for grasp and release activities
Utilise a full range of task-specific, therapeutic exercise equipment which allows clinicians to customise treatment programs to address each patient's specific deficits
Customises a fabricated orthosis for each patient to use in therapy and at home
Reinforces patients' gains made in the clinic by easily incorporating the Saebo program at home
Enable treatment of multiple patients simultaneously with a variety of sizes and parts
Allow clinicians to maximise their treatment programs by using a full range of Saebo gross motor equipment
Offer an affordable, highly effective treatment option to patients as they transition from inpatient rehab to outpatient rehab
Package Includes:
SaeboFlex®
9 x Universal Forearm Shells (all sizes)
10 x Left Hand Pieces (all sizes)
10 x Right Hand Pieces (all sizes)
5 x Sets of Aluminium
5 x Sets of Finger Springs
5 x Sets of Thumb Springs
112 x Digit Caps
105 x Replacement Liners
Extra Misc. Parts
SaeboReach™
5 x Above Elbow Cuffs (all sizes)
2 x Outrigger Systems
3 x Elbow Stops
2 x Sets of Tension Cords
25 x Replacement Liners
SaeboStretch®
3 x Left SaeboStretch® (S-L)
3 x Right SaeboStretch® (S-L)
1 Four Tier
1 Five Ball Peg Activity
1 Height Adjustable Target
1 Multi-purpose Exercise Device
1 SaeboGlide® Plus
48 Exercise Balls
12 Paediatric Balls
4 Crates
The Ultimate Tool Box
Equipped with the SaeboFlex, SaeboReach, and the SaeboStretch.  This ultimate tool box will be the go to cart to assist physical recovery programs.
The SaeboFlex is dynamic custom fabricated wrist, hand, finger orthosis that allows stroke survivors the ability to incorporate the involved hand functionally in therapy and at home by supporting the weakened wrist, hand, and fingers. The brace attaches to the stroke survivors forearm, hand and fingers. The device has no motor or electrical parts.
The SaeboReach is a dynamic custom fabricated elbow, wrist, hand, finger orthosis. The SaeboReach consists of a combination of theSaeboFlex and a custom fabricated above elbow component. The orthosis features an elbow extension system. The elbow extension system provides assistance in straightening the arm so functional reaching is possible. The SaeboReach was specifically designed for individuals that have limited hand and elbow function.
The SaeboStretch is a revolutionary new award winning dynamic hand splint for individuals suffering from neurological injuries such as stroke. The splint helps to prevent joint damage while improving and maintaining range of motion.
Available to deliver in Australia.
Please contact us for a shipping quote.
Freight will be charged at a nominal rate with the exception of "bulky items". Freight for "bulky items" will be charged at actual cost. 
Additional freight charges may apply for Urgent Next Day Delivery or delivery to Regional areas.

Refused deliveries – we reserve the right to add an additional delivery charge on all consignments which are refused delivery without justification.
Limited Warranty:
A manufacturer's warranty applies to products when used in accordance with the user instructions and when the product has been properly maintained.
Warranties do not extend to products damaged by any abuse, accident or improper use.
Returns:
This is a non-stock item.  Non-stock items are filled as a special order and cannot be cancelled or returned, unless faulty or not fit for the purpose described.