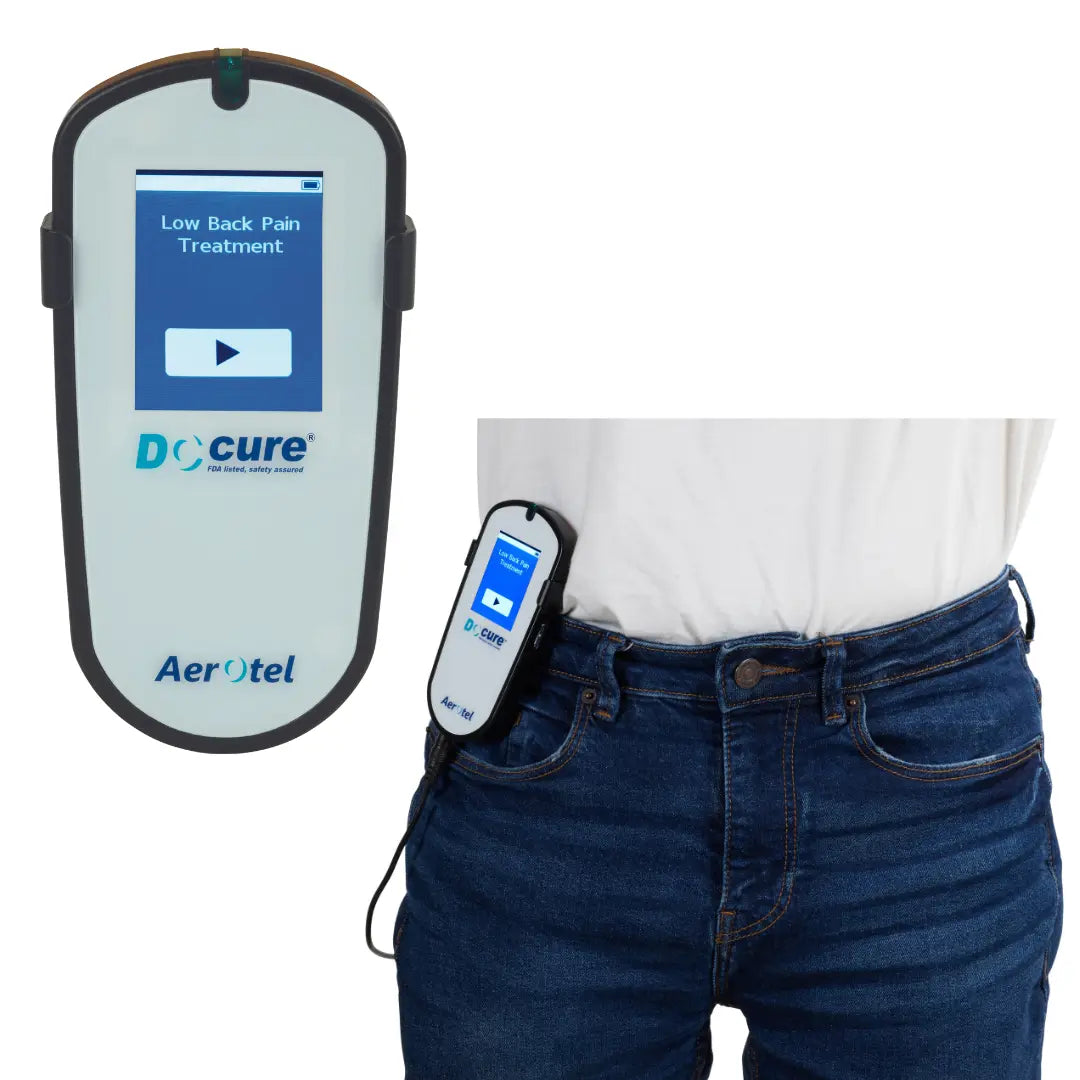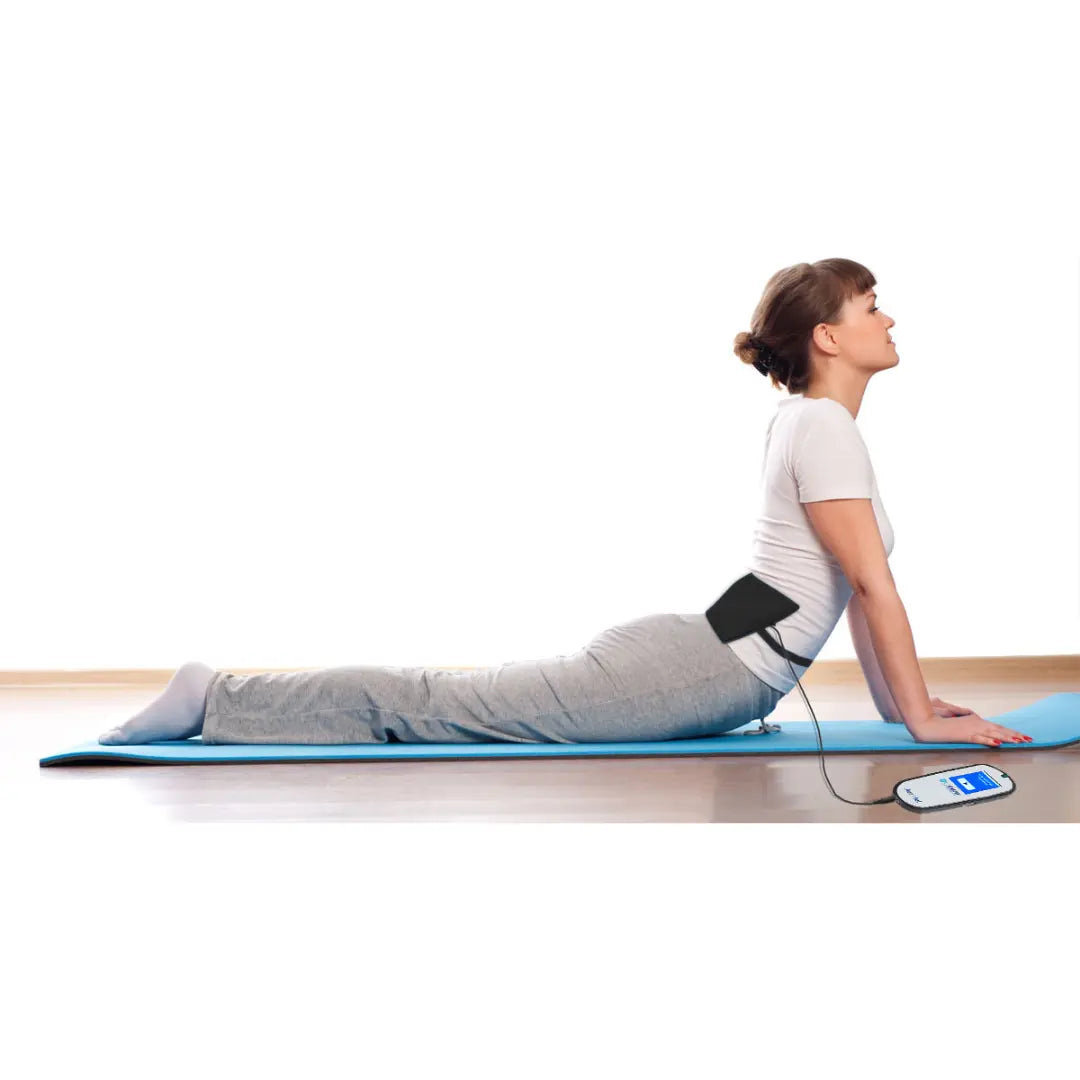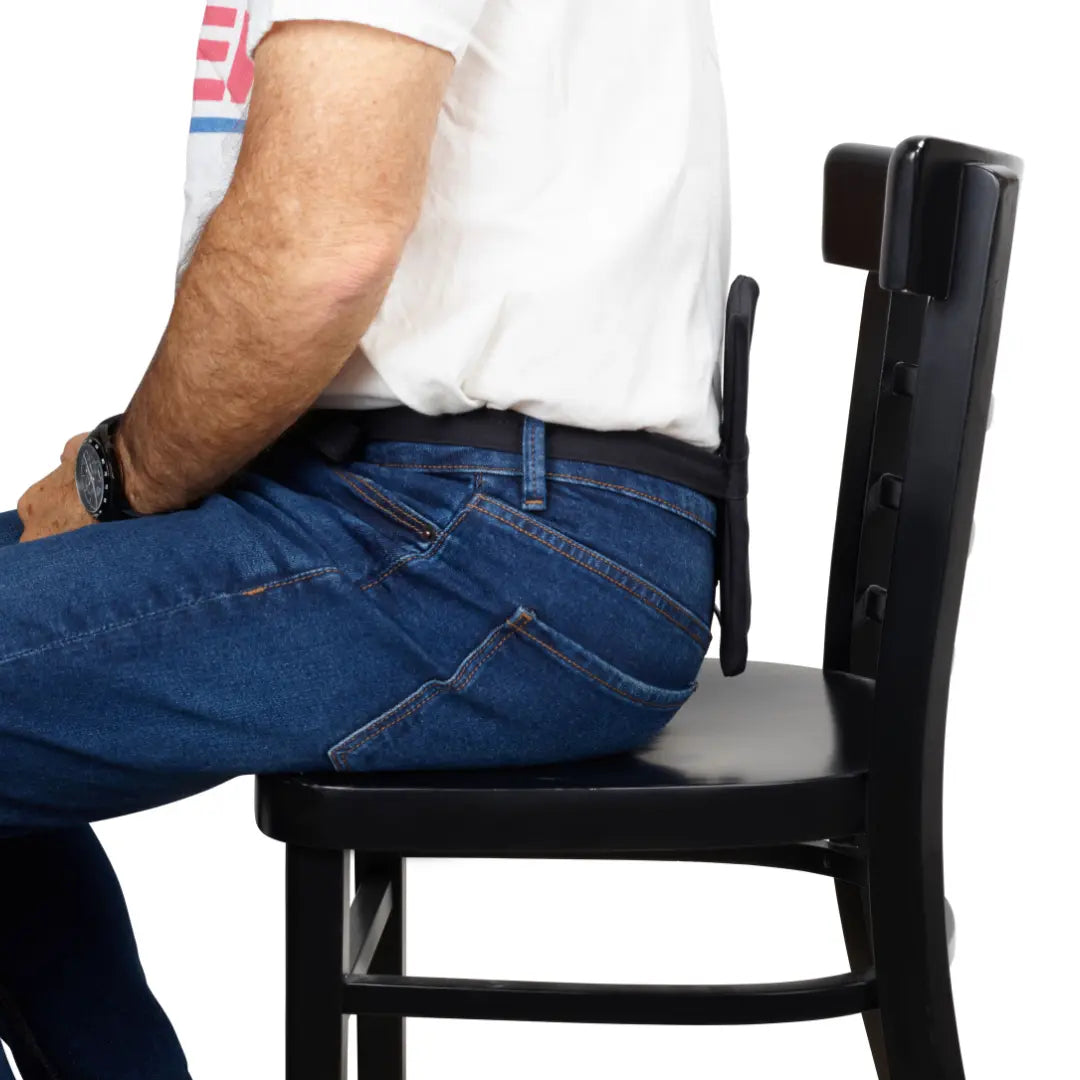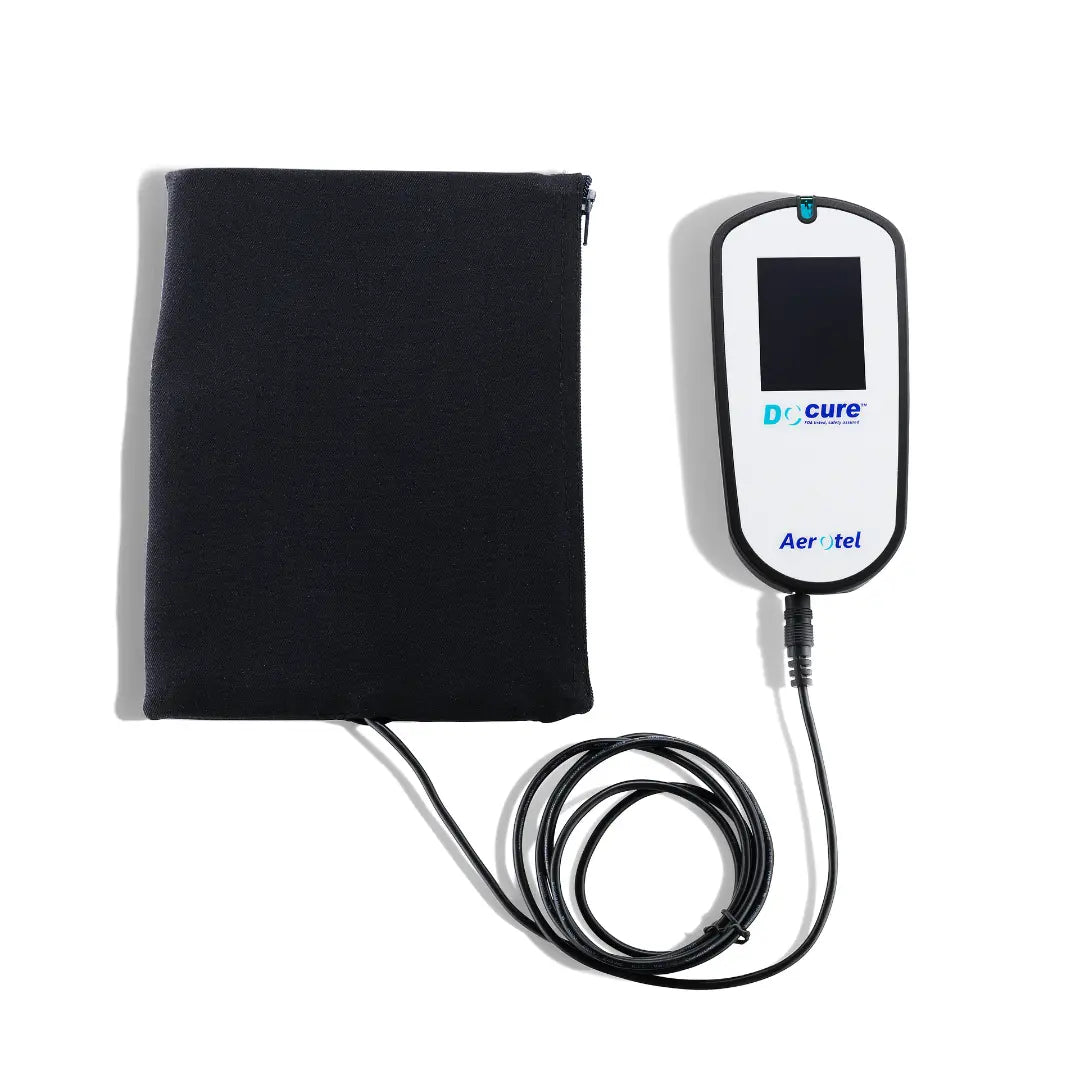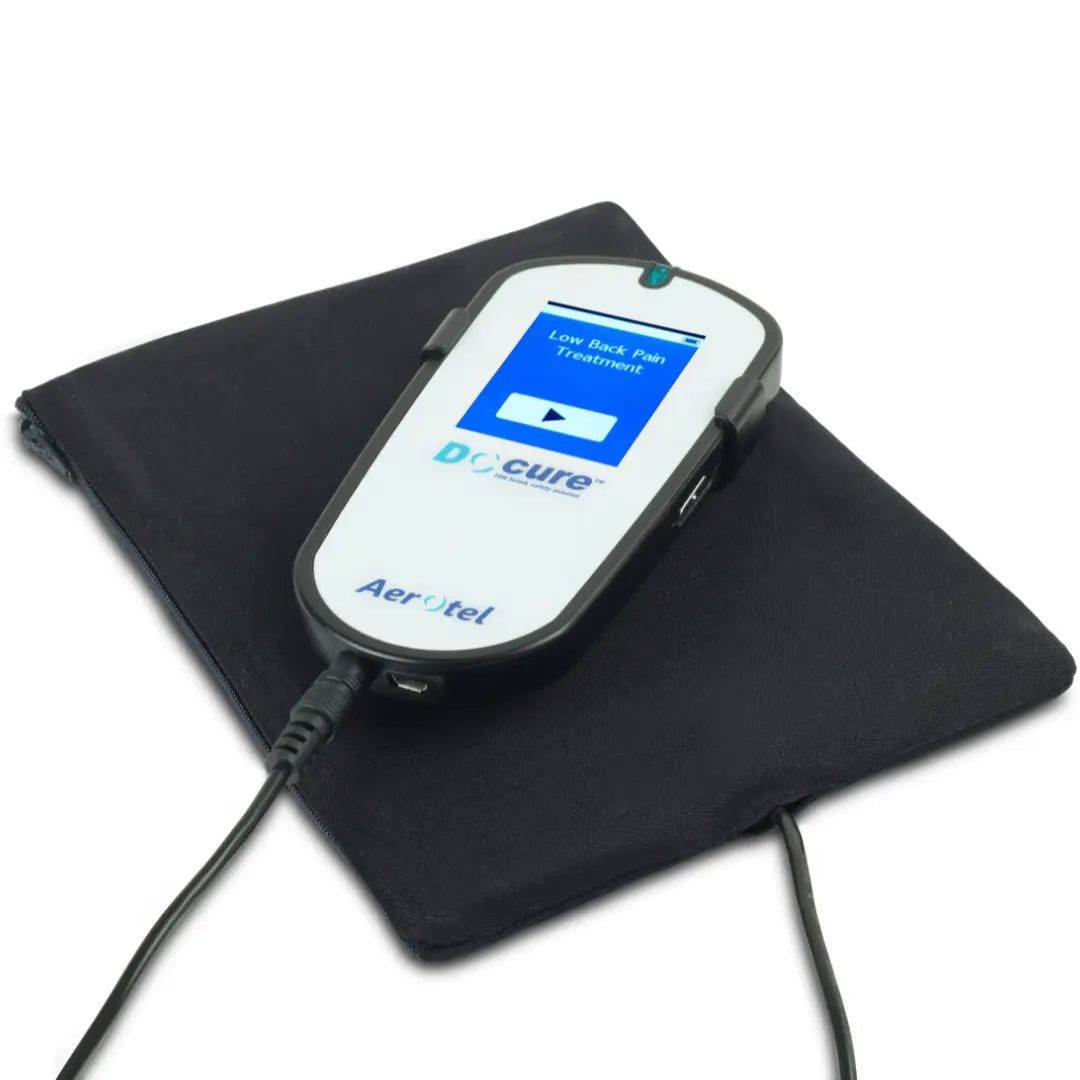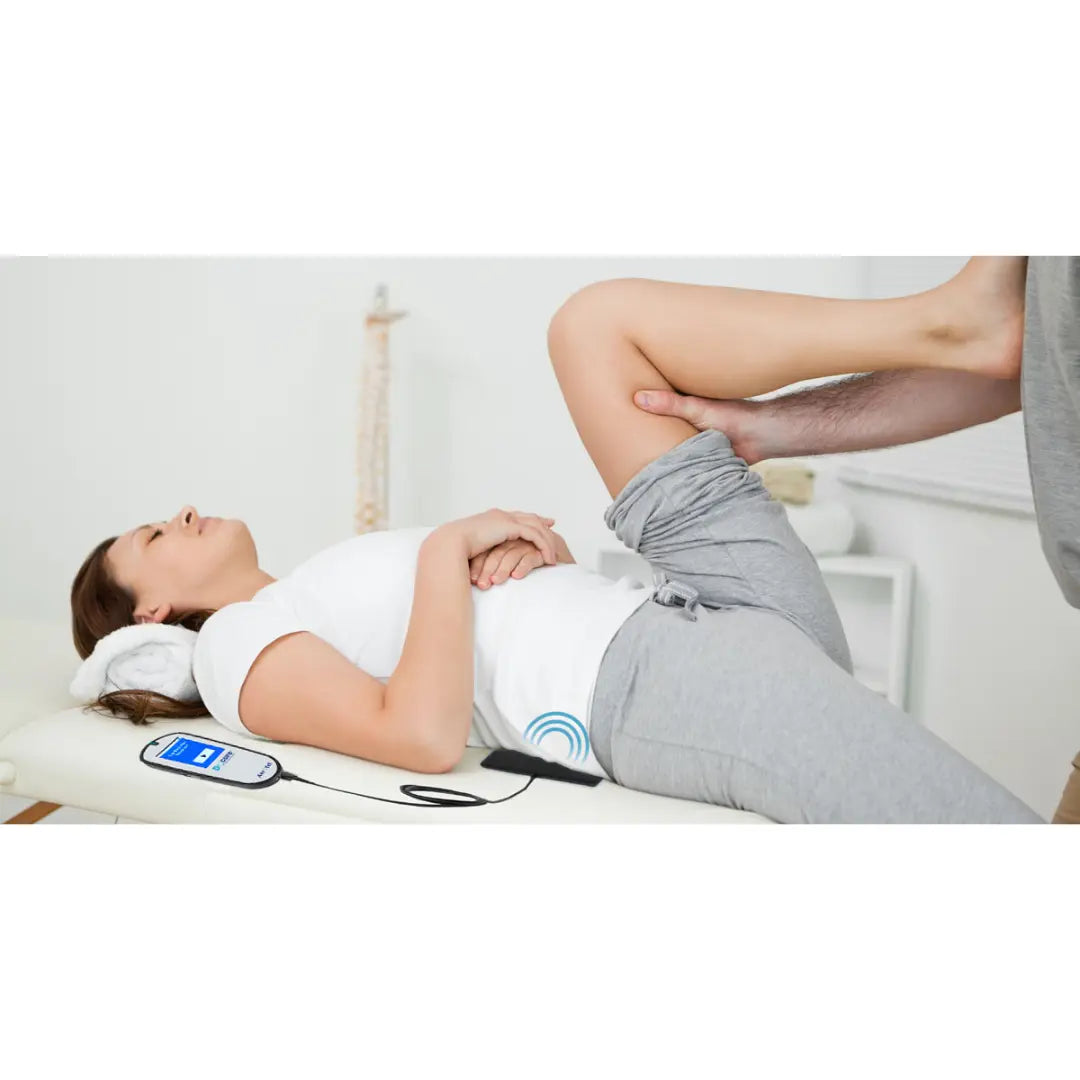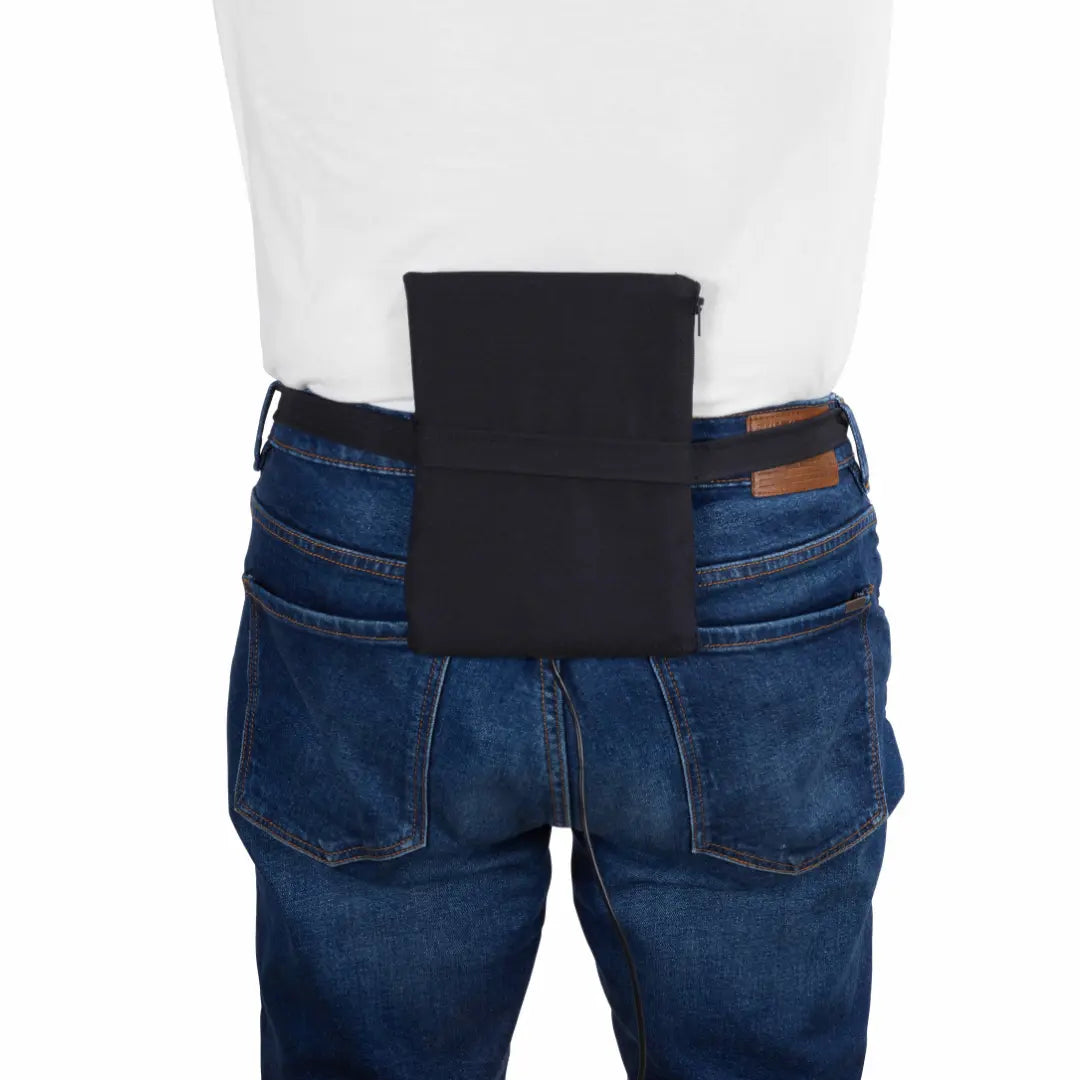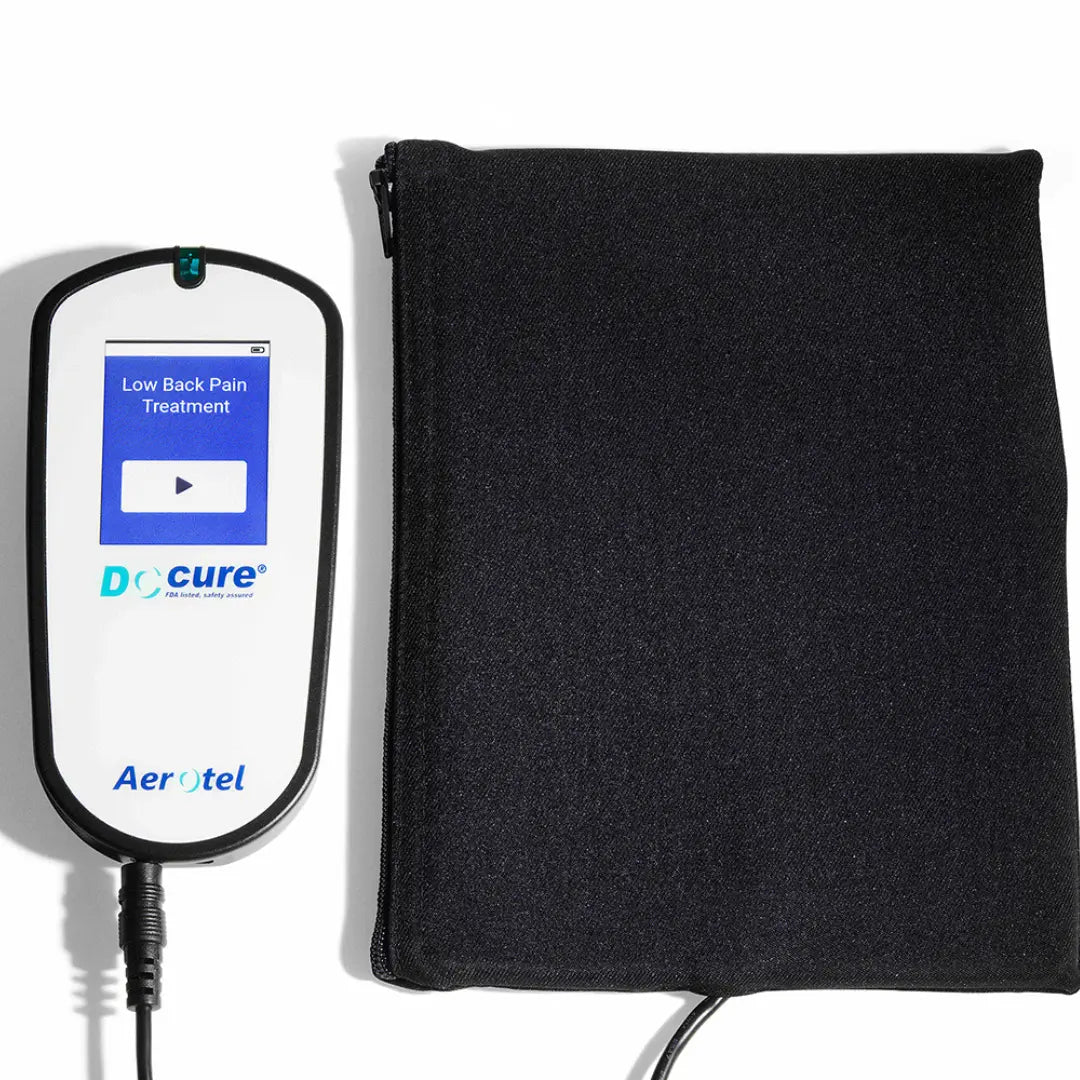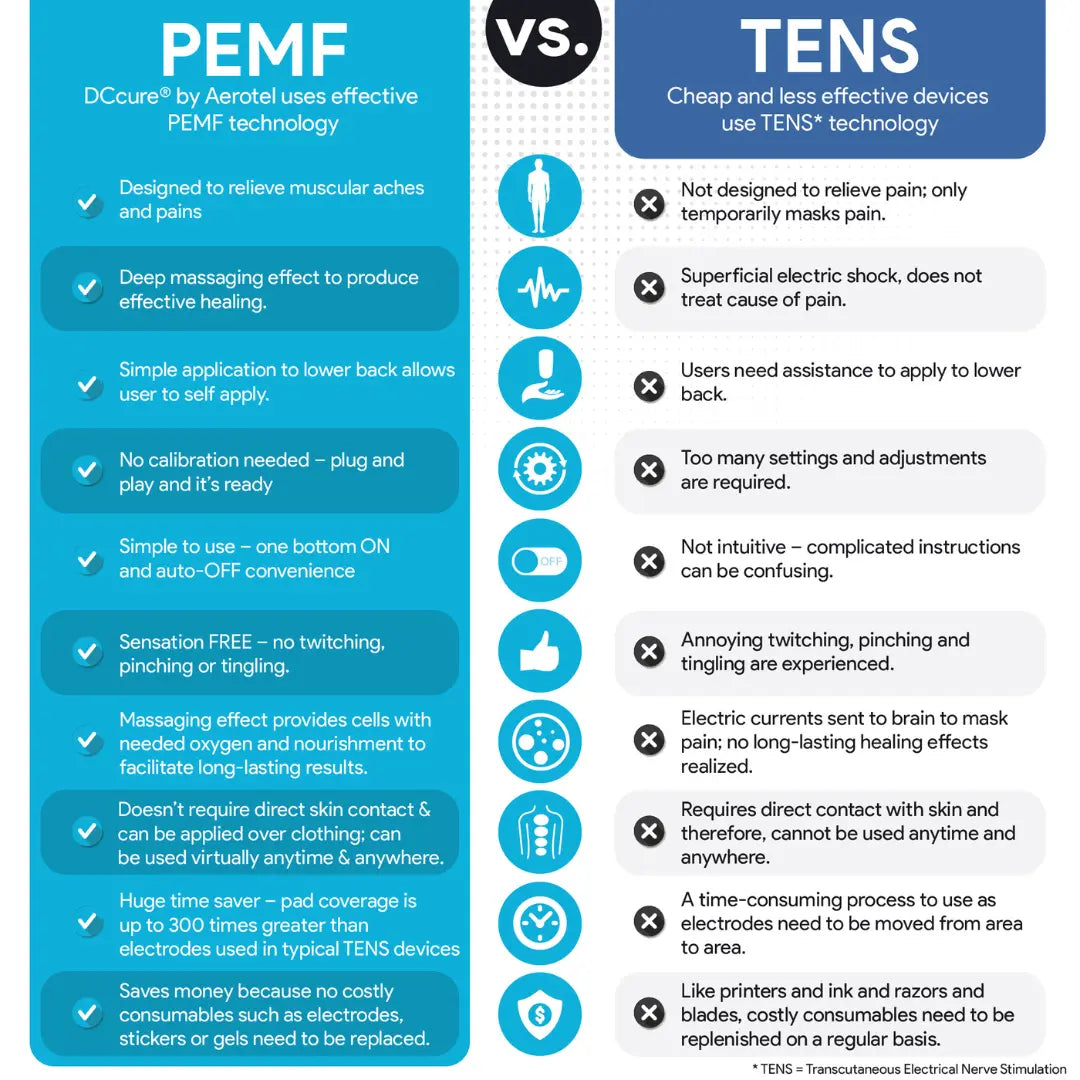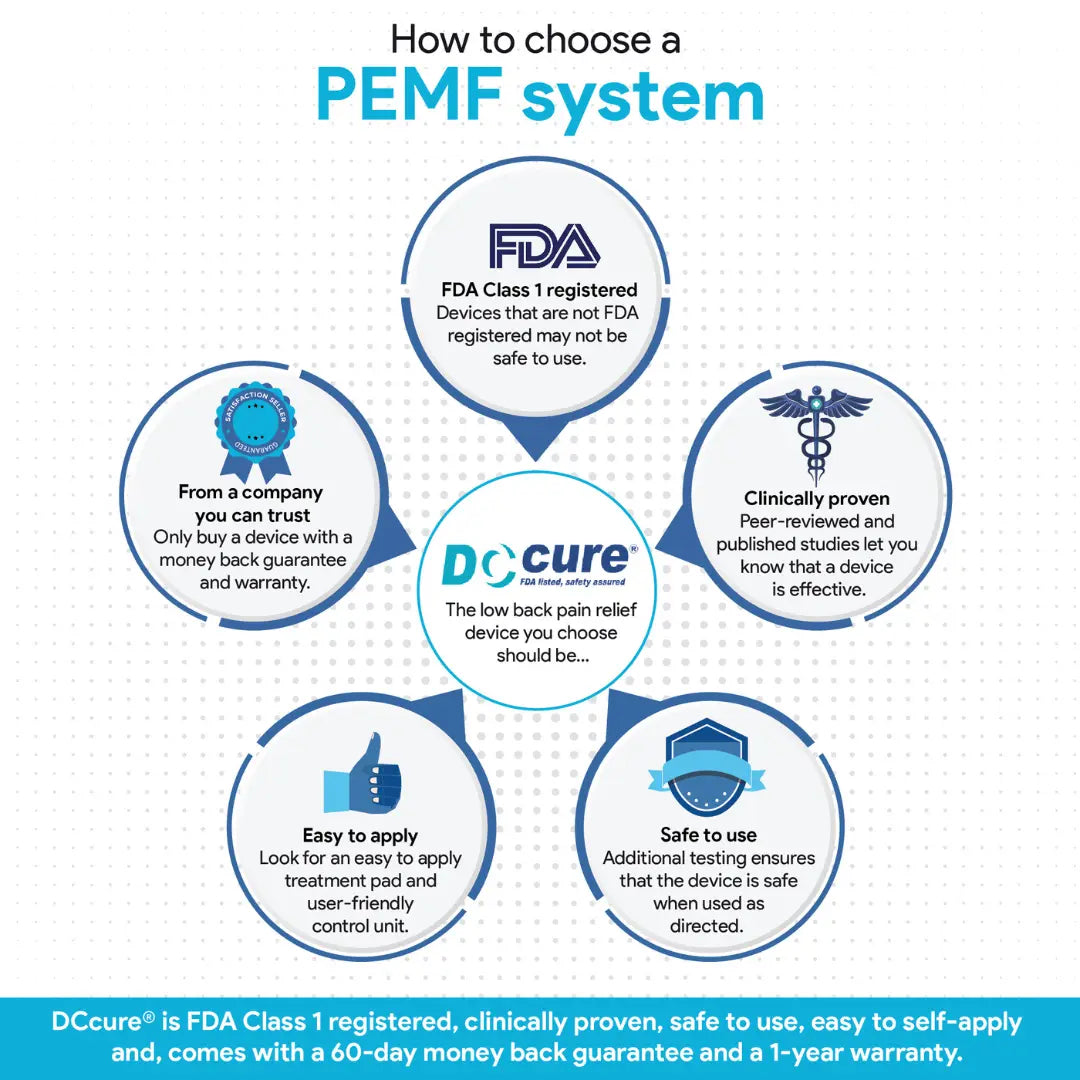 DCcure Portable Pulsed Electromagnetic Field Therapy Device
Add-On:
Additional Standard Therapeutic Pad
DCcure is a palm-sized Pulsed ElectroMagnetic Field (PEMF) FDA Class 1 registered therapeutic device clinically proven to relieve acute and chronic muscular pain including but not limited to the lower back. It's the same device clinicians use to help relieve their patients' pain.

DCcure is designed to relieve pain associated with muscle strains, pulls, tears, tension, spasms, and overuse; repetitive motion injuries; poor posture; prolonged sitting and weak core muscles. Try DCcure at home, risk-free, and start living life without low back pain.
Relieve your low back pain with the promising results of portable PEMF therapy, a safe and effective natural treatment option.
DCcure is safe, effective, very easy to apply and FDA Class 1 registered.
DCcure uses Aerotel's advanced Pulsed ElectroMagnetic Field (PEMF) technology clinically proven to relieve your acute and chronic low back pain. It is used by medical professionals and is easily self-applied while at home and on the go.
In a double-blind pilot study conducted at an American university, study participants applying Aerotel's PEMF technology saw a 3-time improvement in pain and mobility compared to participants applying a sham. *
DCcure comes with a digital display, rechargeable lithium battery and a patented, hypoallergenic therapeutic pad. And unlike TENS devices which use costly gels, stickers and consumables that need to be replaced, everything you need comes in the box.
Try DCcure with confidence! It comes with a 60-day money back guarantee and 1-year warranty. Start your 60-day, no risk trial now.
* Lisi AJ, Scheinowitz M, Saporito R, Onorato A. A Pulsed Electromagnetic Field therapy device for non-specific low back pain: A pilot randomized controlled trial. Pain Ther. 2019;8:133-140. https://bit.ly/2CAY23e
 How PEMF technology works
PEMF's suggested mechanism of action are that they produce electric and magnetic fields which have these effects:
Globally – They modulate the actions of hormones, antibodies, and neurotransmitters of a variety of cell types demonstrating effects on the endocrine, immune, and neural systems.
Pain/neural level – They reduce the expression of reactive oxygen species and free radicals; facilitate immune system and cell growth; and reduce pain associated with trauma or injury.
Muscle level – They increase cell growth and repair following injury, suggesting improved healing, faster recovery, and more rapid return to routine, daily activities.
Bone effects – They increase bone mineralization and calcification by increasing intracellular calcium content; they also increase collagen production leading to improved healing.
While DCcure is intended to relieve acute and chronic muscular pain, PEMF therapy is known to decrease inflammation and have beneficial effects when applied to different clinical indications:
Bone and cartilage formation
Joint disorders, osteoarthritis (OA), rheumatoid arthritis (RA)
Anxiety, depression, and mania
Musculoskeletal pain and fibromyalgia (FM)
Wound healing
Top ten reasons why DCcure is your right choice.
Completely safe to use
DCcure delivers safe, clinically proven Pulsed ElectroMagnetic Field (PEMF) therapy. It's IEC-60601-1 compliant, meeting international "gold standards" of safety and performance. 
FDA registered, and AMAR approved 
DCcure is FDA Class 1 registered. In addition, it has received medical device approval (AMAR) from Israel's Ministry of Health. It poses no risk when used as directed.
Proven effective in a double-blind study
In a clinical pilot study conducted at a leading American University, participants applying our PEMF device reported a 3-times improvement in pain and mobility compared to participants applying a sham. 
Available to try risk-free
You can try DCcure at home risk-free. We're confident it will relieve your low back pain. If it does not work for you, just let us know within 60 days and we'll issue you a full refund.
Easy to self-apply
DCcure is "plug and play" simple. Position its therapeutic pad, secure it in place using the supplied fabric belt, plug it in, turn it on and press the start prompt. That's all there is to it!
Used and recommended by clinicians
DCcure is used and recommended by clinicians across the globe as an effective and safe solution for reducing or even eliminating low back pain.
A drug-free pain relief alternative
DCcure is a non-invasive, drug-free alternative to costly and potentially habit-forming prescription and over-the-counter medications. In fact, DCcure's use may decrease your dependence on pain drugs.
Used virtually anywhere and anytime
DCcure runs silently, produces no burning or tingling sensations, and can be applied over light clothing. In addition to the lower back, it can also be used to relieve muscular pain in other areas of the body.
Built to last
Patented DCcure is produced in our ISO-13485 certified facility in Israel meeting international quality control standards. It's backed by a one-year warranty.
Surprisingly affordable
DCcure does not use expensive consumables that need to be replaced and is priced much less than many other PEMF devices.
* Lisi AJ, Scheinowitz M, Saporito R, Onorato A. A Pulsed Electromagnetic Field therapy device for non-specific low back pain: A pilot randomized controlled trial. Pain Ther. 2019;8:133-140. https://bit.ly/2CAY23e
Aerotel's pilot study
Aerotel completed a successful, double-blind clinical pilot study at an American university. When outcomes were measured post- versus pre-application using the Oswestry Disability Index (ODI), considered the gold standard of LBP functional measurement tools, participants using our technology saw a 3-times improvement in ODI scores compared to participants using a sham device. *
Our study was peer reviewed and published in Pain and Therapy (June 2019, Volume 8, Issue 1, Pages 133-140). It was presented at the Association of Chiropractic College's Research Agenda Conference (AAC/RAC) in March 2019. For an open-access (free) copy of the report, please click on: https://bit.ly/2CAY23e
What's in the box
Everything you'll need is in the box. DCcure comes with one standard therapeutic pad, fabric belt, battery charge cable, 110 AC adapter, removable belt clip and user's guide.
Optional add-ons
Additional standard therapeutic pads and a new flexible therapeutic pad that makes it easier to apply DCcure at joints, e.g., elbows and knees.
DCcure's performance characteristics
DCcure is preprogrammed to transmit sets of PEMF intensities at different frequencies. It generates a wide and precise frequency spectrum from 1 Hz to 45,000 Hz which means that it is effective even in short sessions.
The device emits its electromagnetic field which is equally distributed via coils printed on the circuit board of the therapeutic pad. The electromagnetic field is generated by a current from a square wave signal with intensity of 16v p-p which is divided by a 700kΩ resistor. The field intensity is no more than 80 nano Tesla (equal to 0.8 Gauss).
DCcure is powered by a rechargeable lithium battery. A fully charged battery will deliver four to five 30-minute therapy sessions. When in regular use, we suggest that a user recharge the battery every two days, when "Low battery, please recharge" appears on the digital display or, when the battery charge meter is low.
Contraindications
DCcure should not be used by persons who have an implanted pacemaker or defibrillator, are pregnant, being treated for any form of cancer, to mask or relieve undiagnosed pain, by infants or children under the age of 18. If pain persists, users are urged to consult a licensed medical professional. 
DCcure® is a registered trademarks of Aerotel, Ltd. U.S. patent # US 10,092,769 B2.
How DCcure is applied:
DCcure should initially be applied 2 times a day for 6 weeks (treatment sessions last 32 minutes); even though you may feel better sooner, continue to use it for 6 weeks for best results.

After the initial 6-week treatment period, you may apply DCcure 2 to 3 times a week for maintenance, as needed, or as directed by your health care professional.

In addition to treating low back pain, you can also use DCcure to treat acute and chronic muscular pain in other areas of your body.

DCcure runs silently with no burning or tingling sensations; rest assured that the unit is working properly as long as the blue LED light at the top of the unit is flashing when in use.