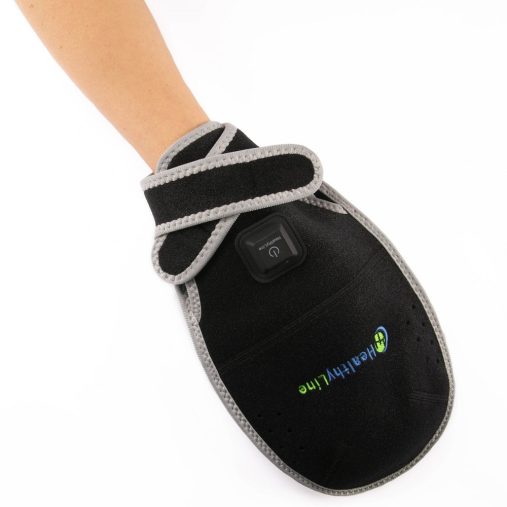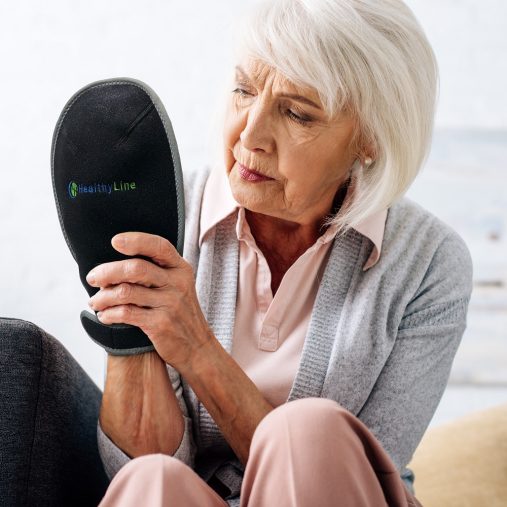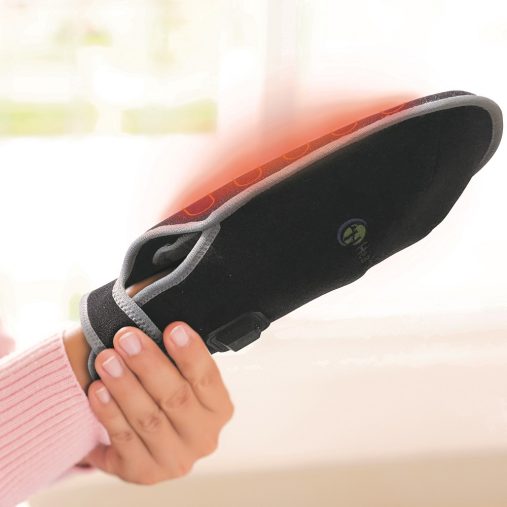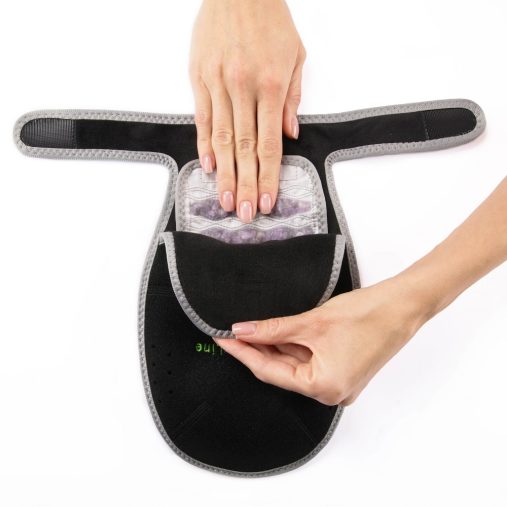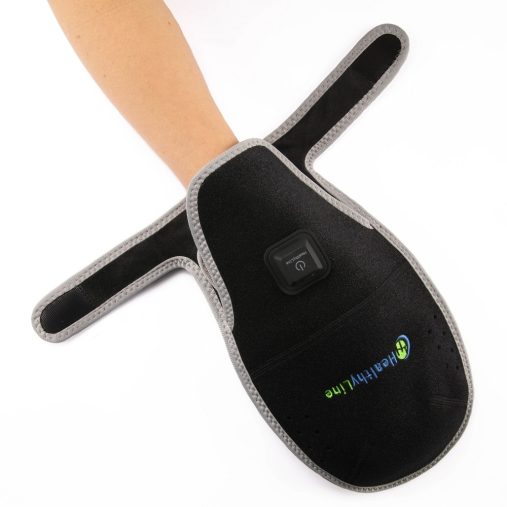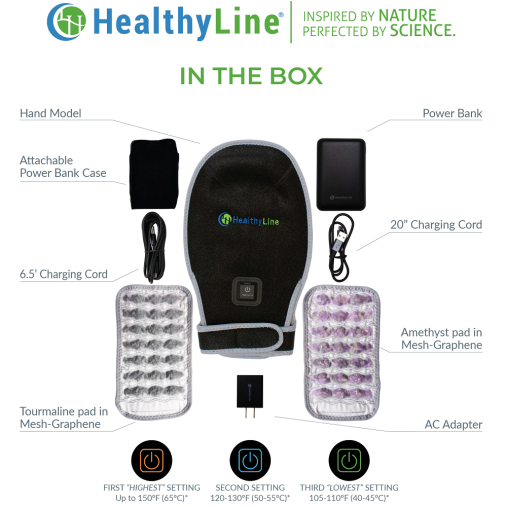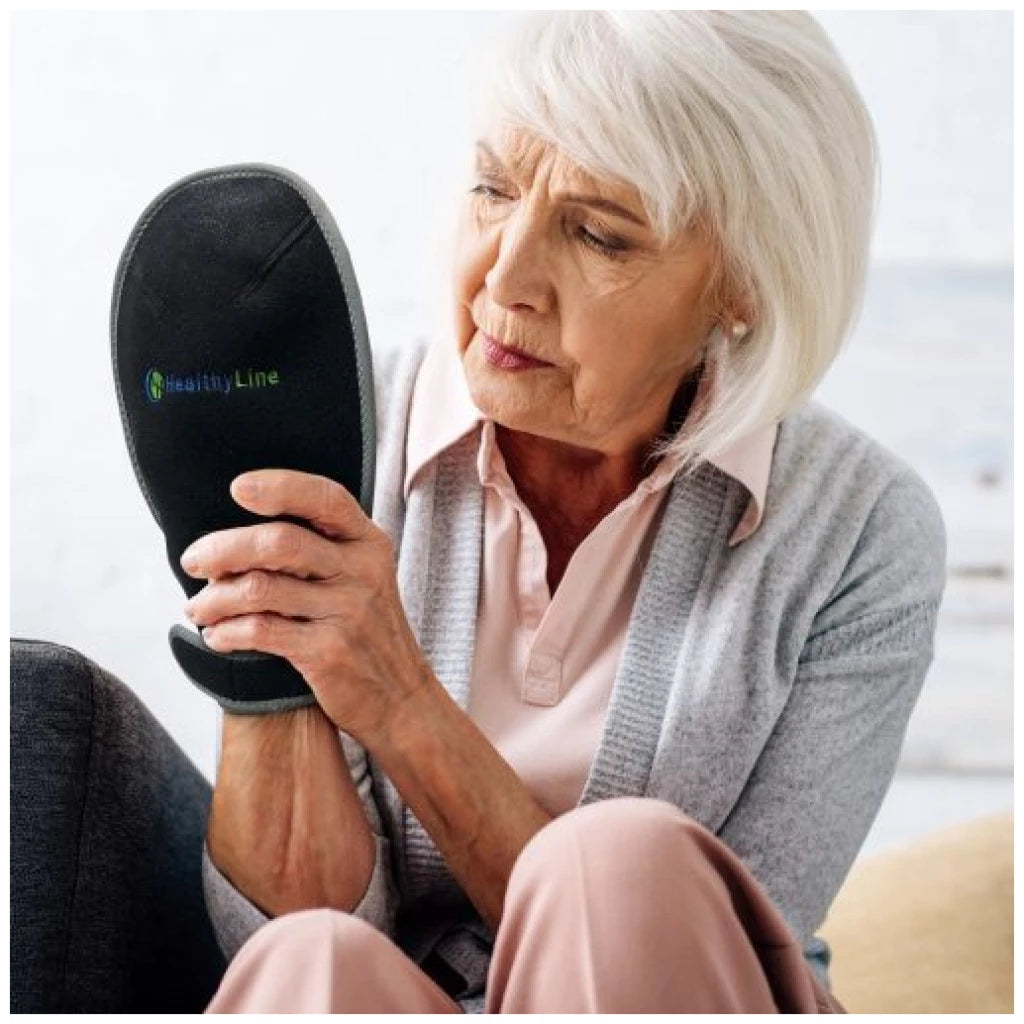 Portable Heated Gemstone Pad - Hand Model with Power-Bank InfraMat Pro®
The hand wrap fits a wrist up to 13". Suitable for indoor and outdoor use. Safe and easy to operate.
The heated hand wrap is a thoughtfully crafted far-infrared heating pad that incorporates an advanced carbon fiber heating system and natural gemstones to release deep penetrating far-infrared heat into a palm and wrist. It is designed to be portable bringing muscle relaxation and temporary relief of joint pain, tension and stiffness on the go or in your home whenever you need. The product's maximum temperature is reached within approximately 25 minutes.

The heated hand pad comes with two inserts made of revolutionary graphene fabric, filled with crushed and polished amethysts and tourmaline. Each portable model evenly distributes far-infrared rays and negative ions into the targeted area. The included 10,000 mAh power bank allows 4+ hours of continuous heat and fully charges in less than 4 hours. The device can also be used with direct power through a USB adapter.

The Features:
Portable temporary pain-relieving device for indoor and outdoor use
Gemstones heat up to maximum temperature within 25 min
Powered by universal DC adapter
Can be used with direct power through a USB adapter on 100-240V 50/60 Hz
The Specifications:
Size (approx.): 12″ x 7″ (30 cm x 18 cm)
Weight (approx.): 0.9 lbs (0.4 kg)
Temperature settings: Red – "Highest" setting (up to 150ºF or 65ºC); Blue – "Medium" setting (up to 120-130ºF or 50-55ºC); Green – "Lowest" setting (up to 105-110ºF or 40-45ºC)
5-14 um of enhanced far-infrared heat
NO EMF 
Materials: High-quality lycra-neoprene mix, hook & loop fasteners
Inserts: 2 graphene fabric inserts, filled with crushed and polished amethysts (65 g/2.3 oz) and tourmaline (65 g/2.3 oz).
Power bank capacity: 10,000 mAh
Power bank fully charges in less than 4 hours and allows 4+ hours of continued heat
Relax your mind and body with hot stone therapy:
Heated gemstones release far infrared rays and negative ions
Provides a spa experience in the comfort of your own home
Relaxes muscles when stones placed against your skin
Provides acupressure effect when applying moderate pressure
Makes targeted areas more receptive to massage therapy and chiropractic work
Improves the effectiveness of other therapies
Manage pain with far infrared therapy:
The invisible form of light most commonly received from sunlight
Far infrared rays are vital to human life
Rays penetrate 4-6 inches into the body's tissues
Can temporarily decrease pain and stiffness
Temporarily increases blood circulation where applied
Can help decrease inflammation due to increase of local circulation
Negative ion therapy has positive effects on your wellness:
Nature's purifiers – clearing surroundings of harmful agents
Counteracts positive ion disturbances
Attracts harmful airborne particles and pulls them to the ground
Tourmaline releases the largest quantity negative ions
Guide the body along a path of detoxification of excess waste
Cleanse your mind; improve the quality of your wellness
Warranty:
1 Year Extended Warranty