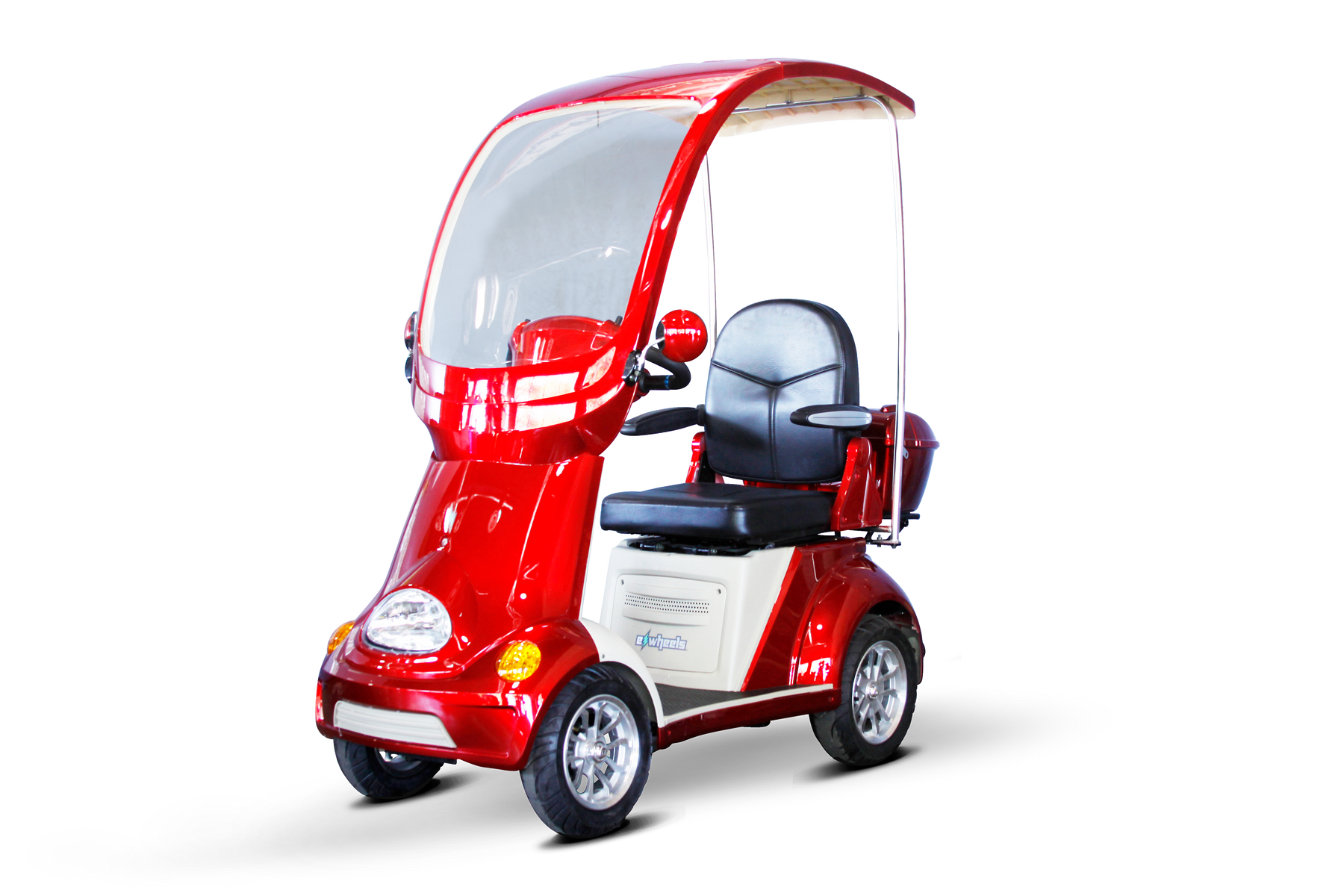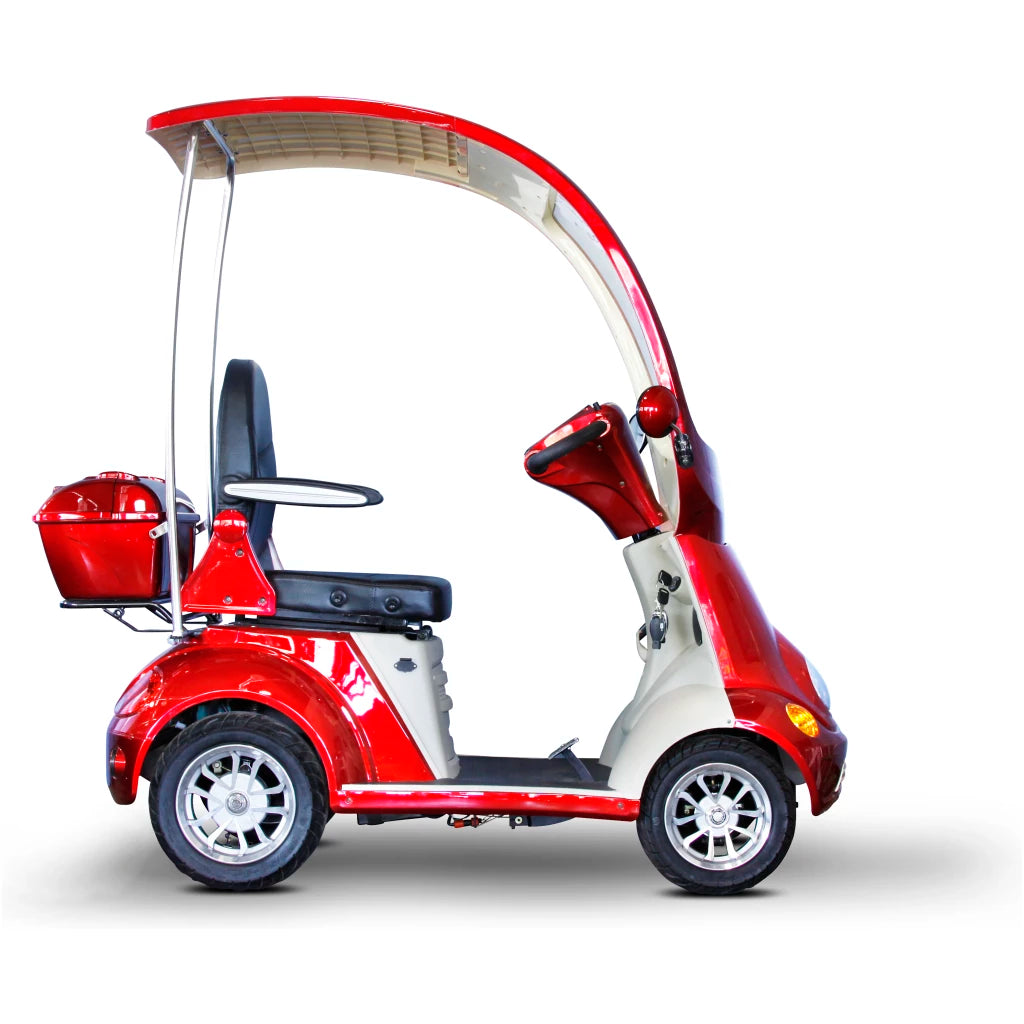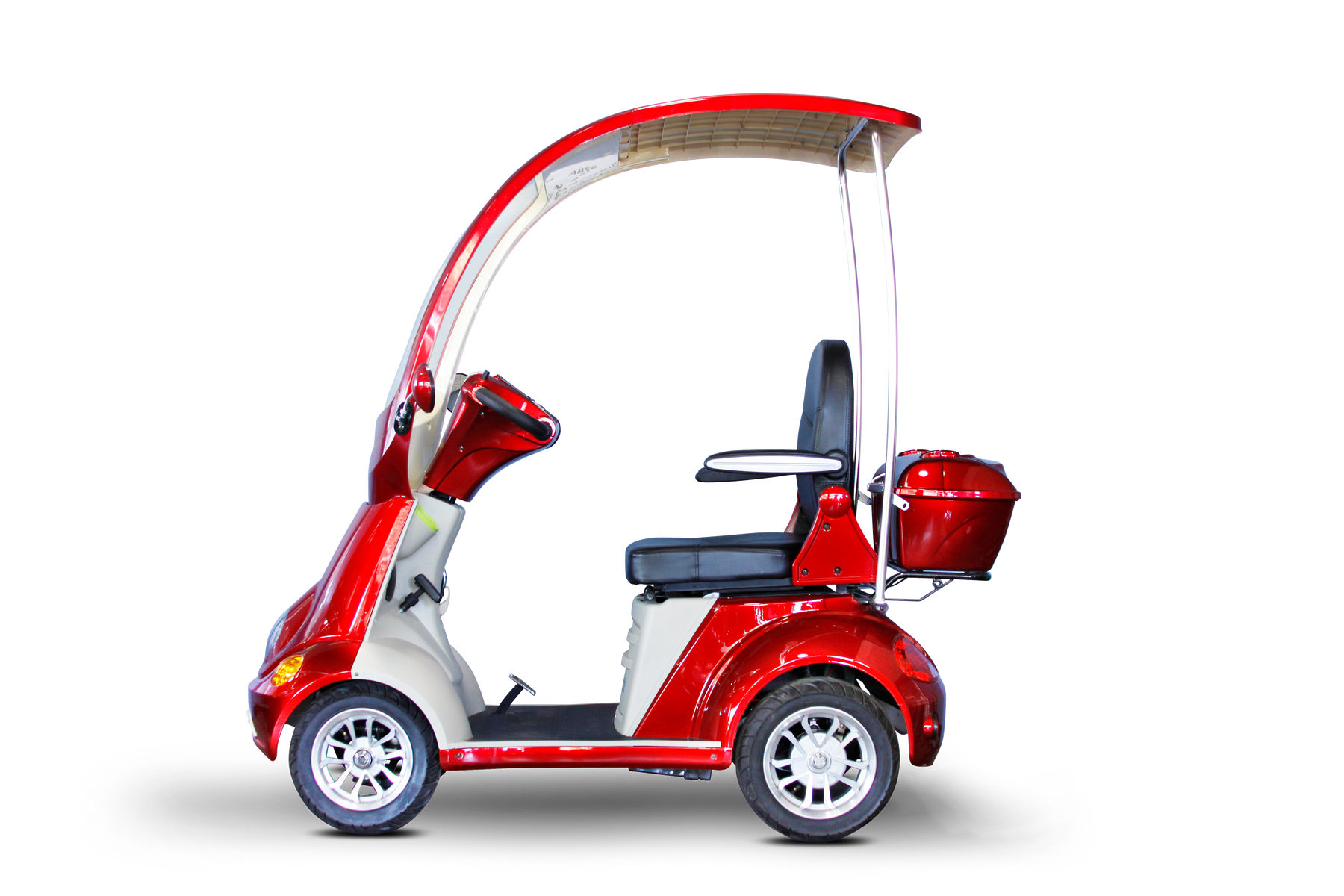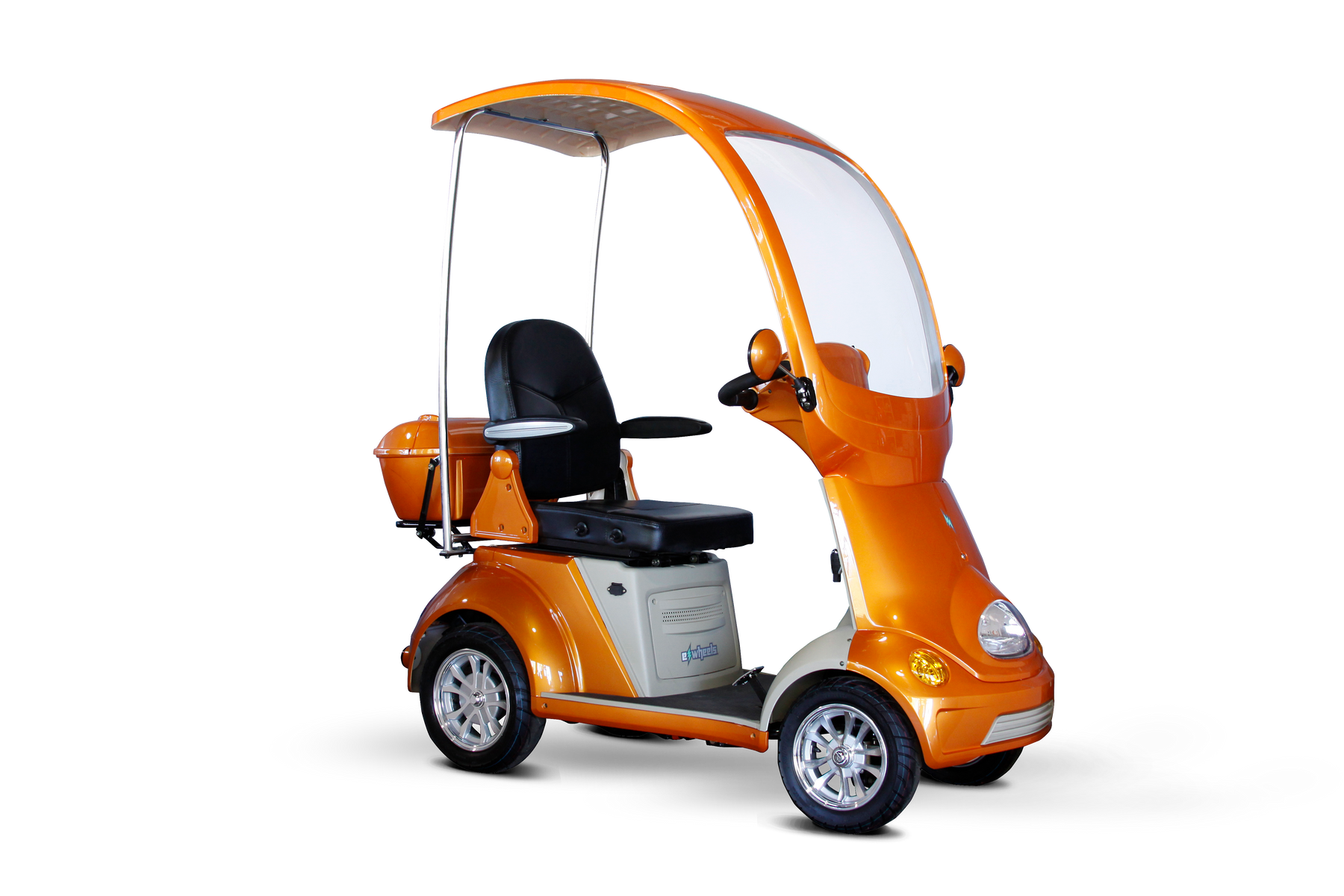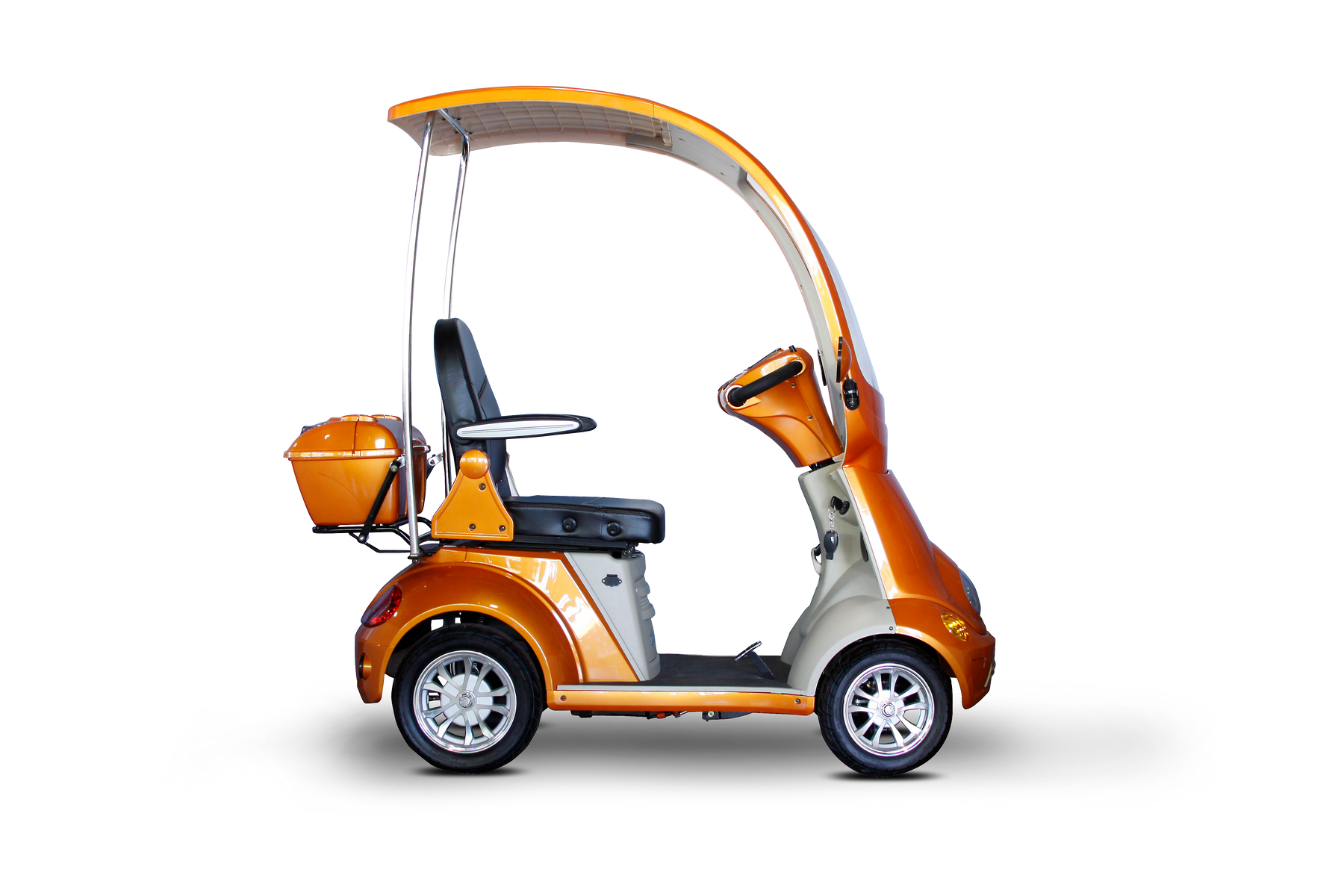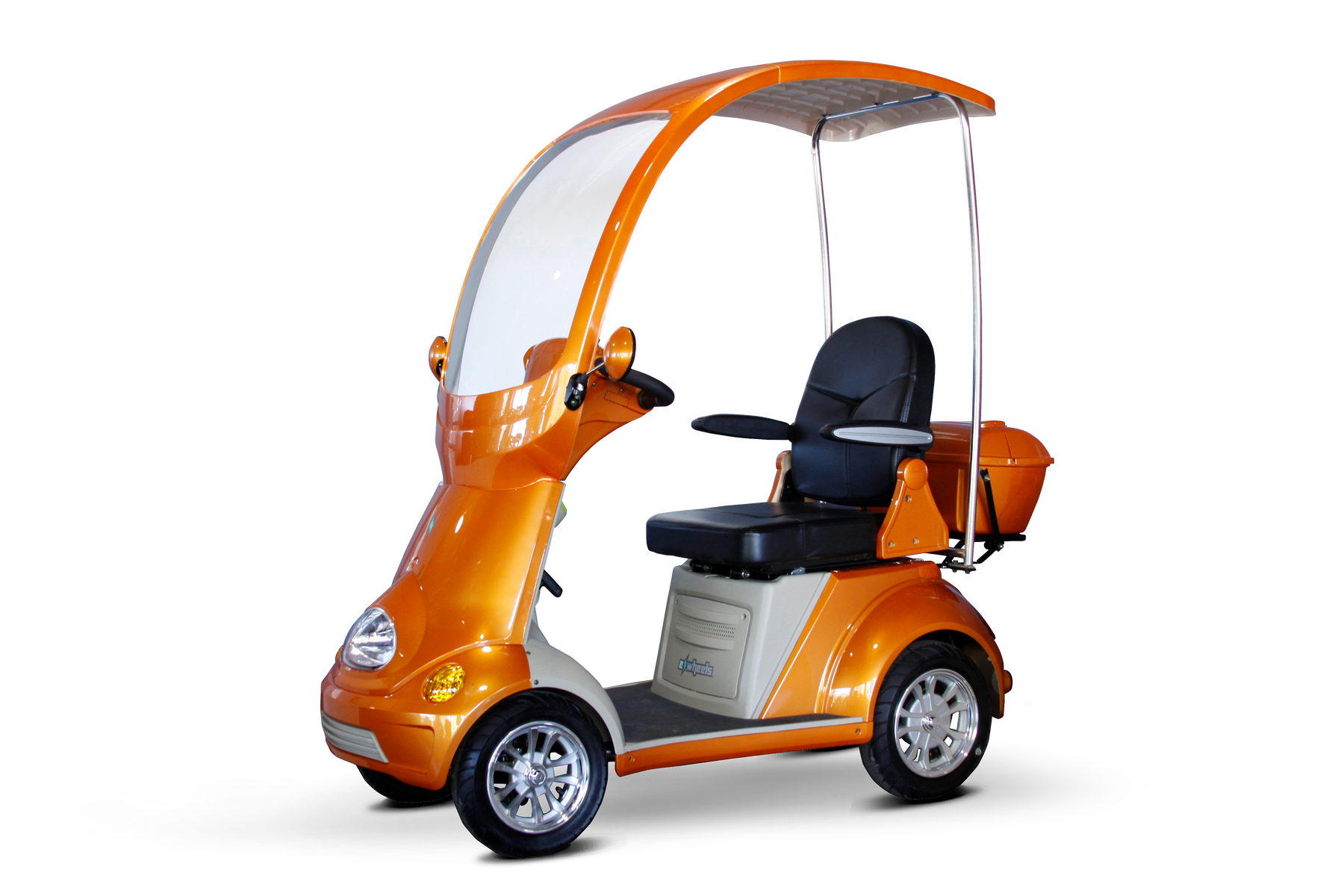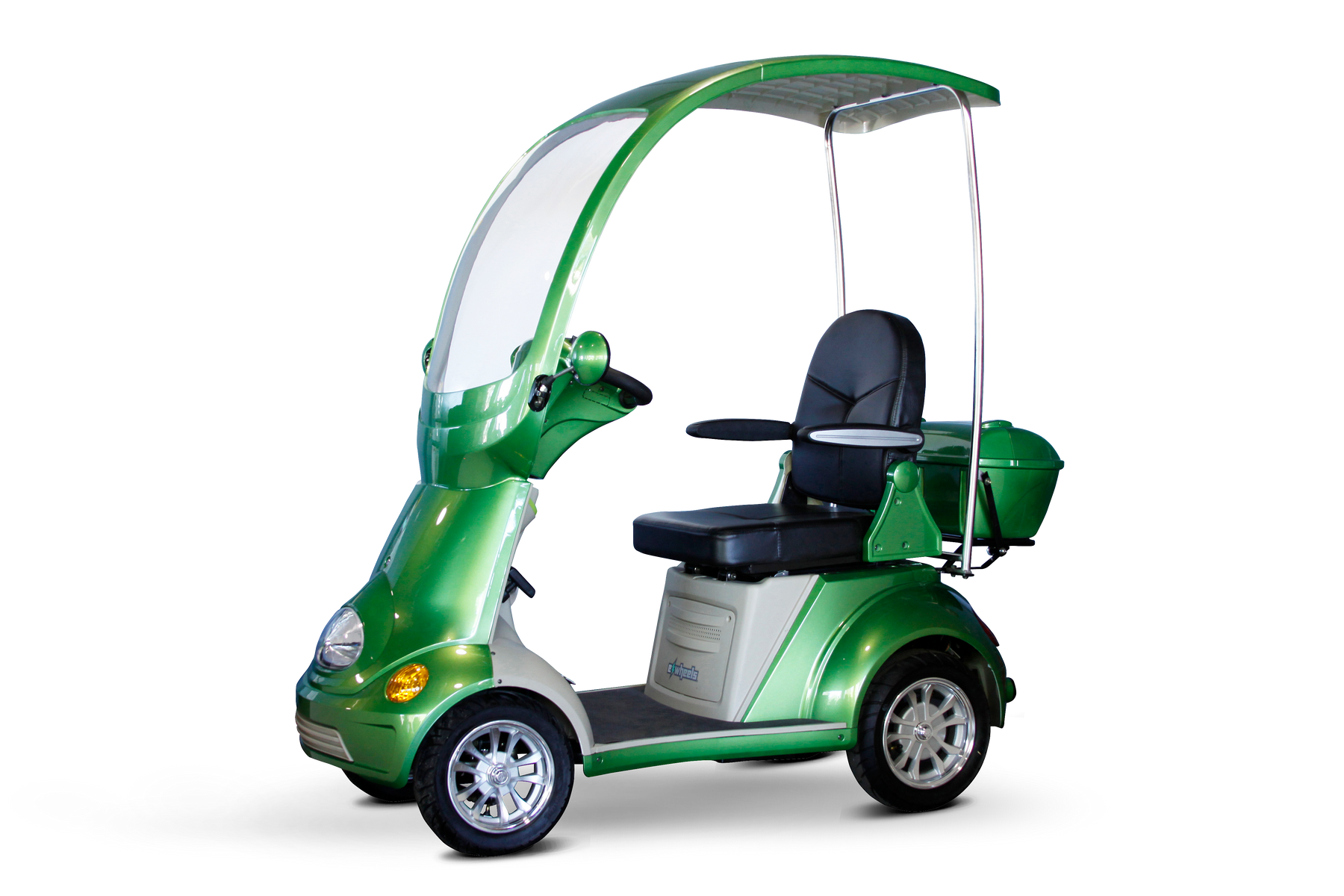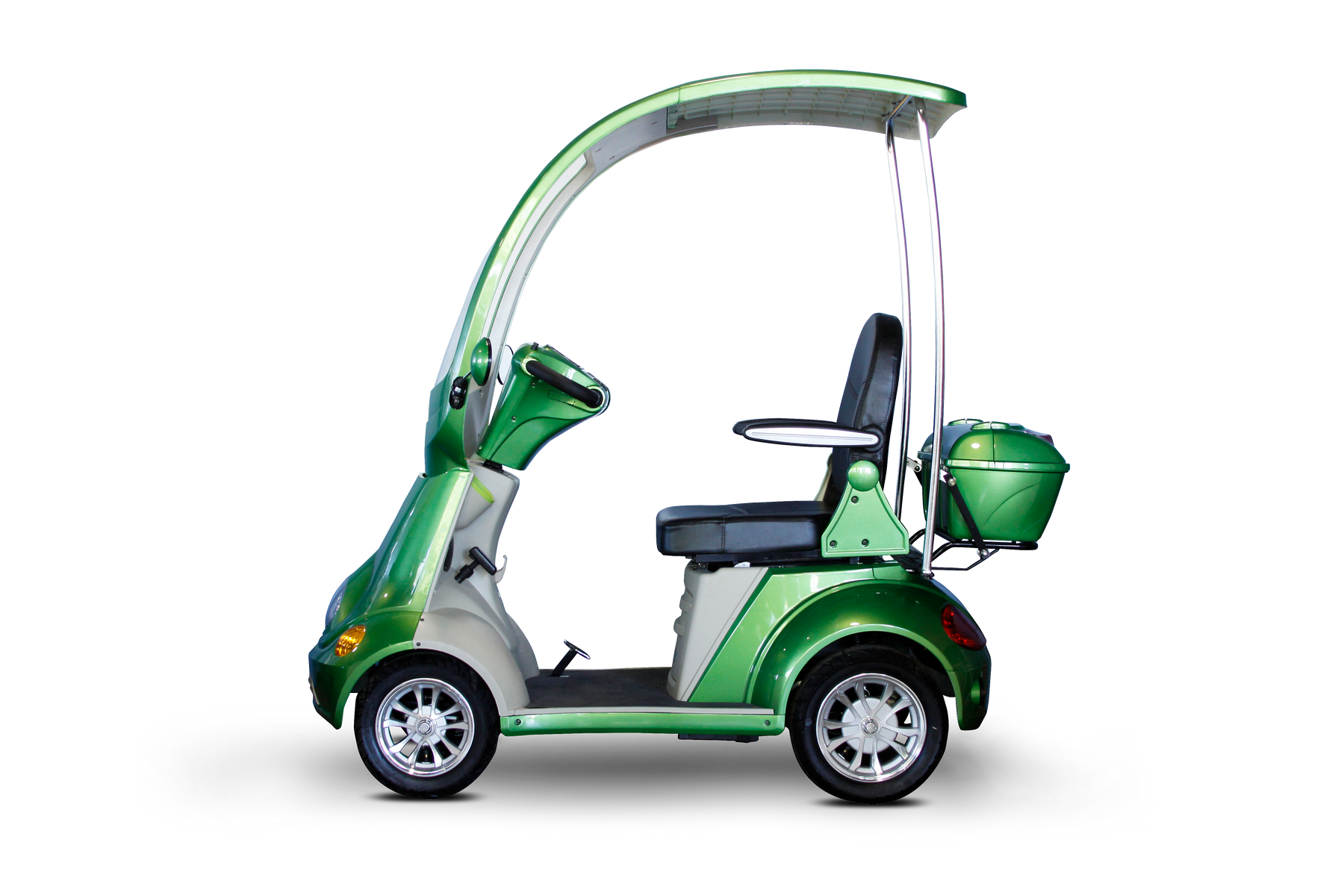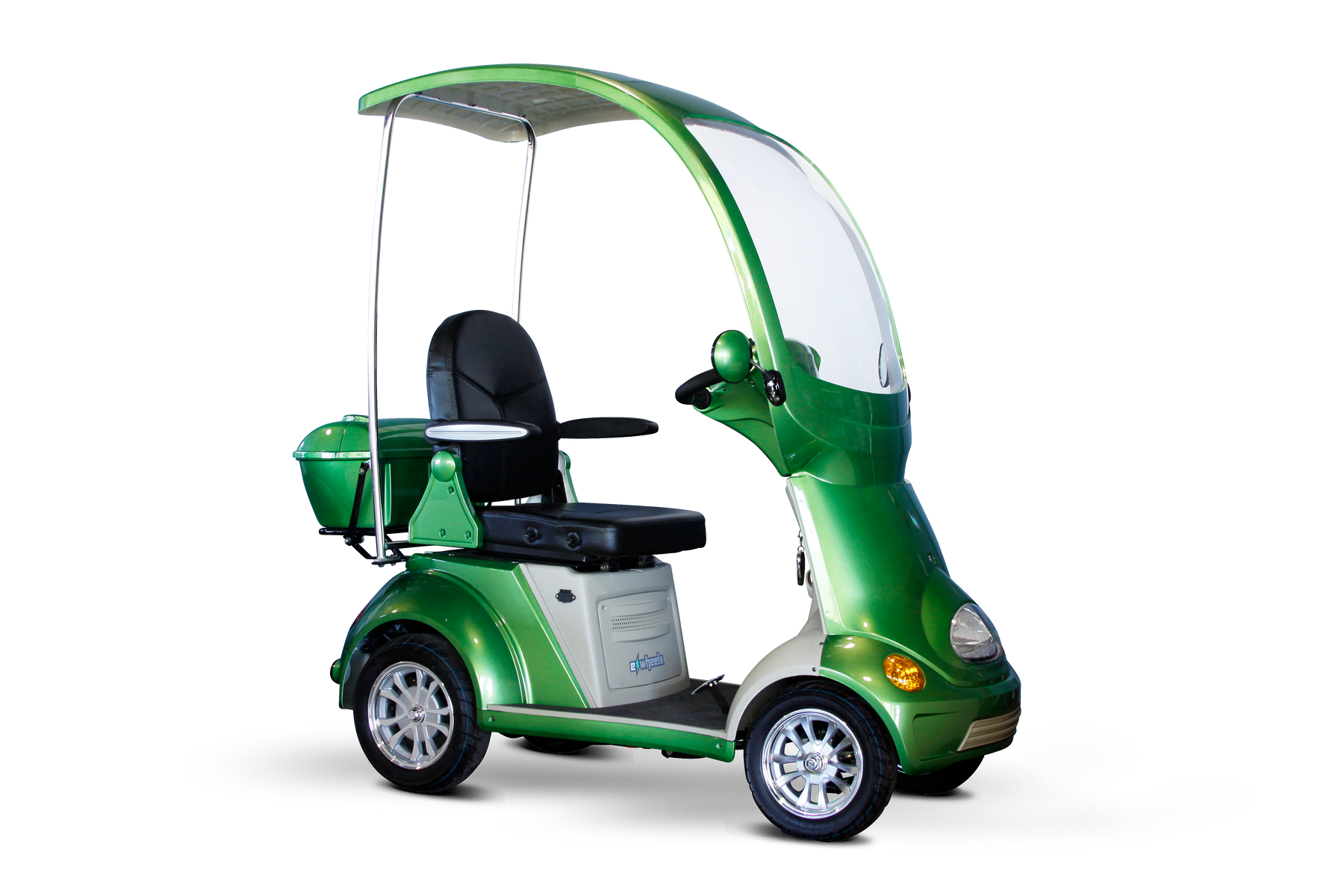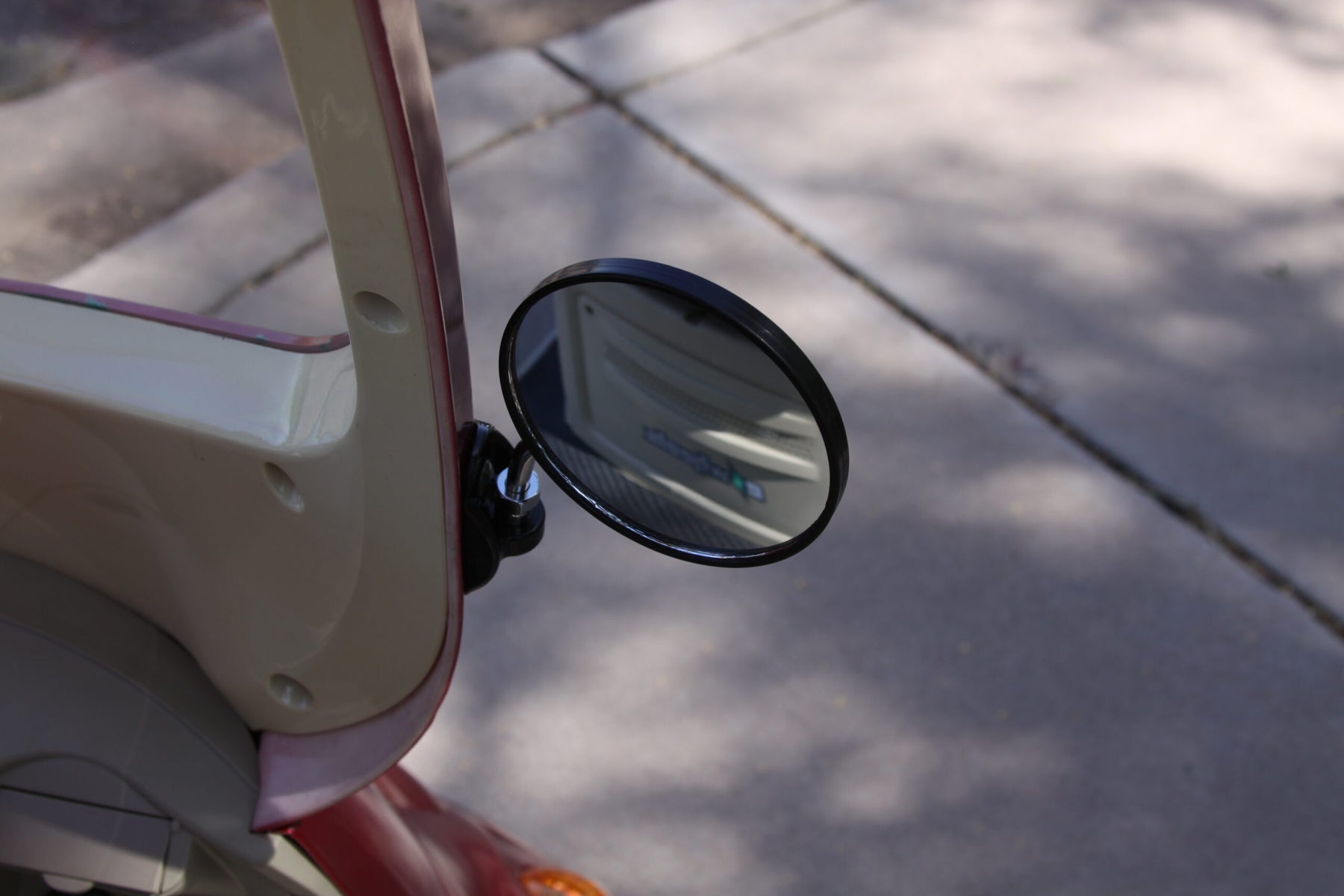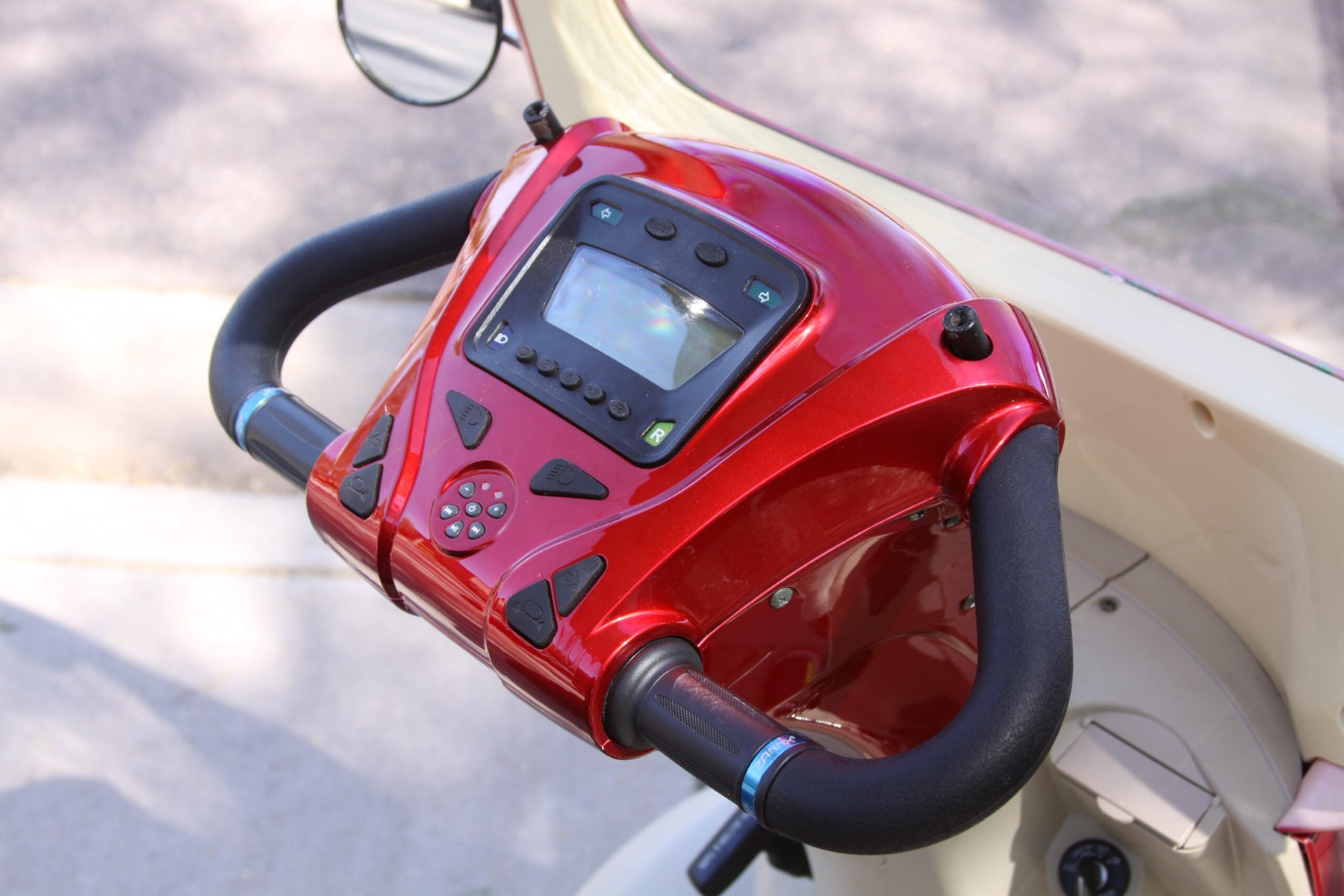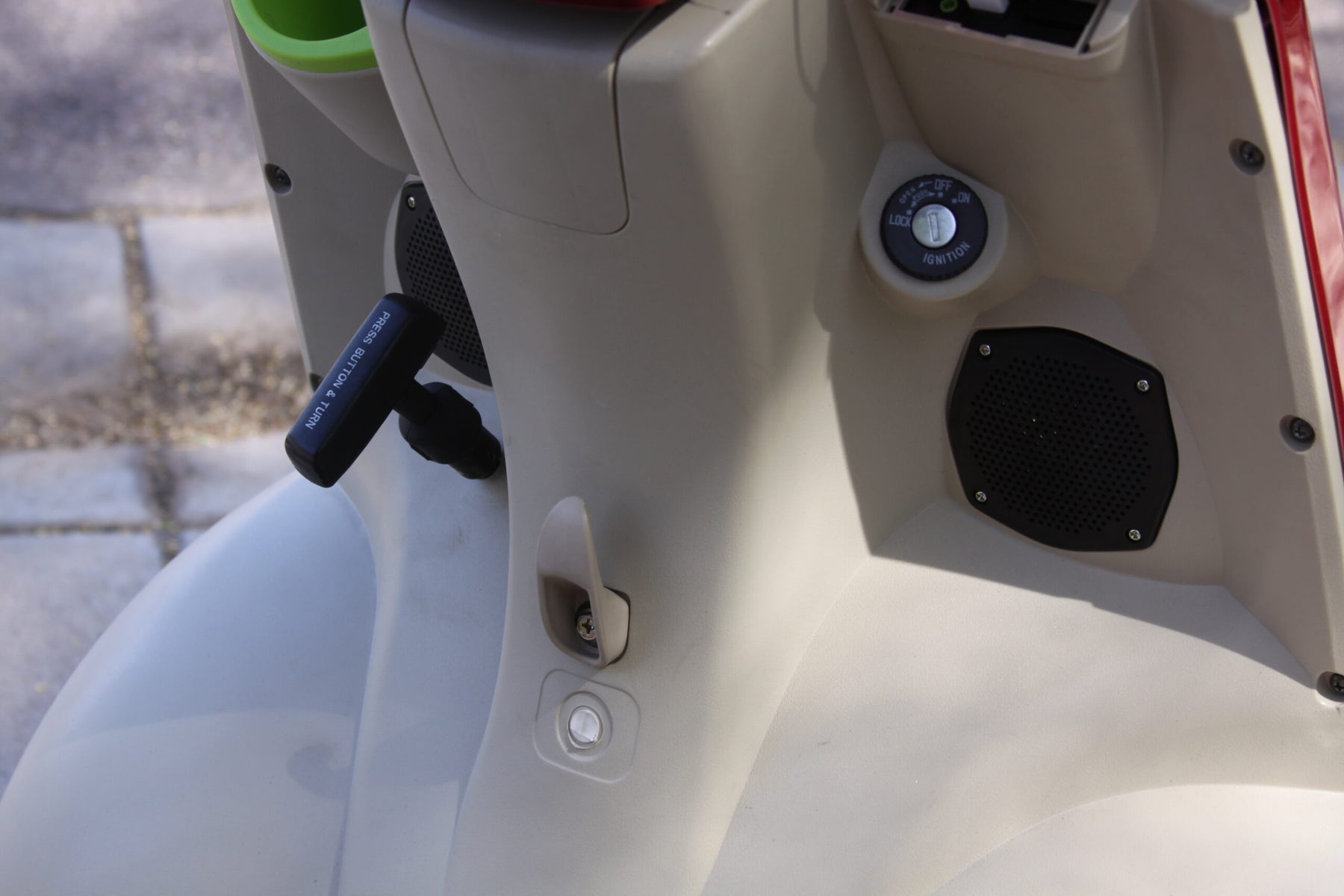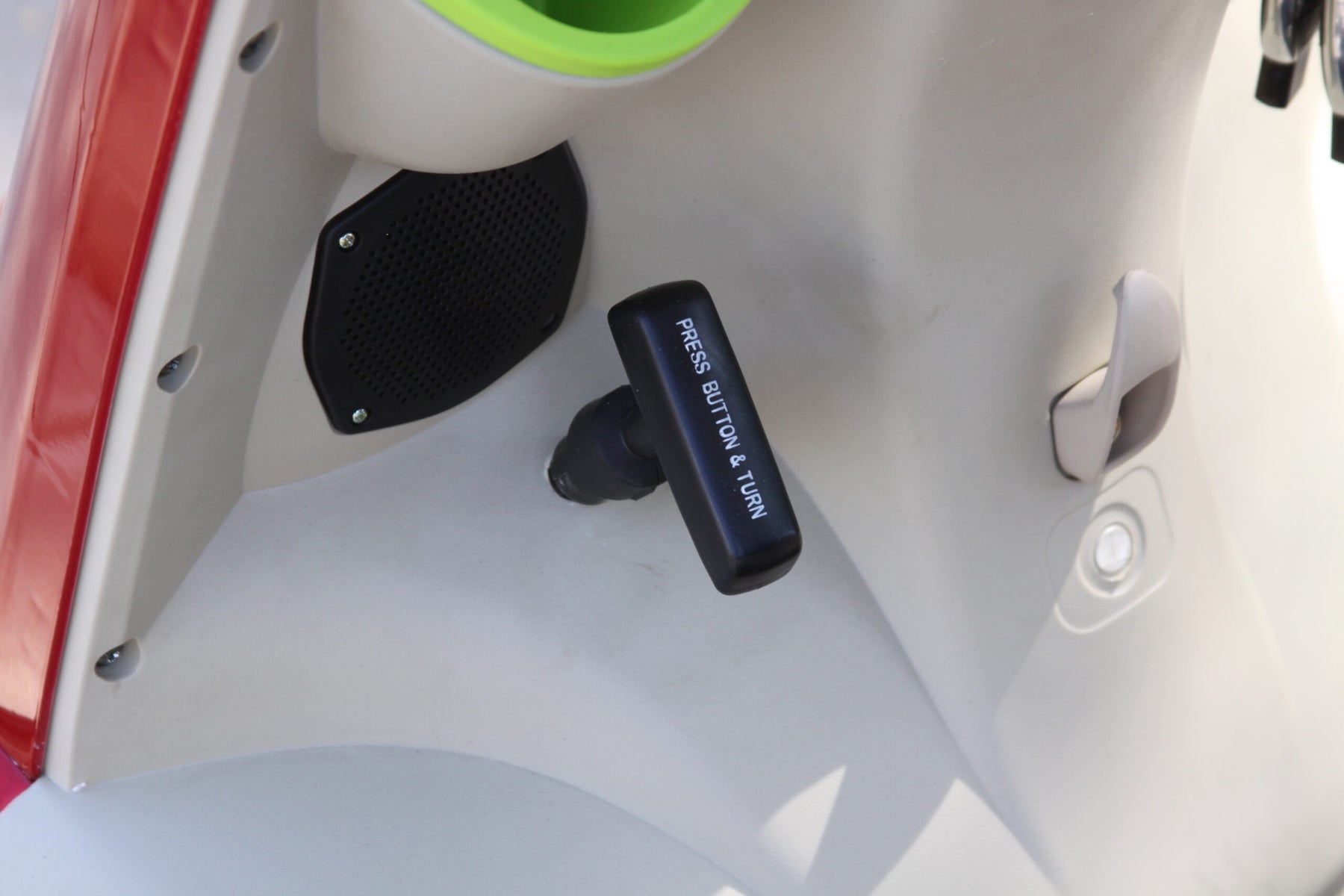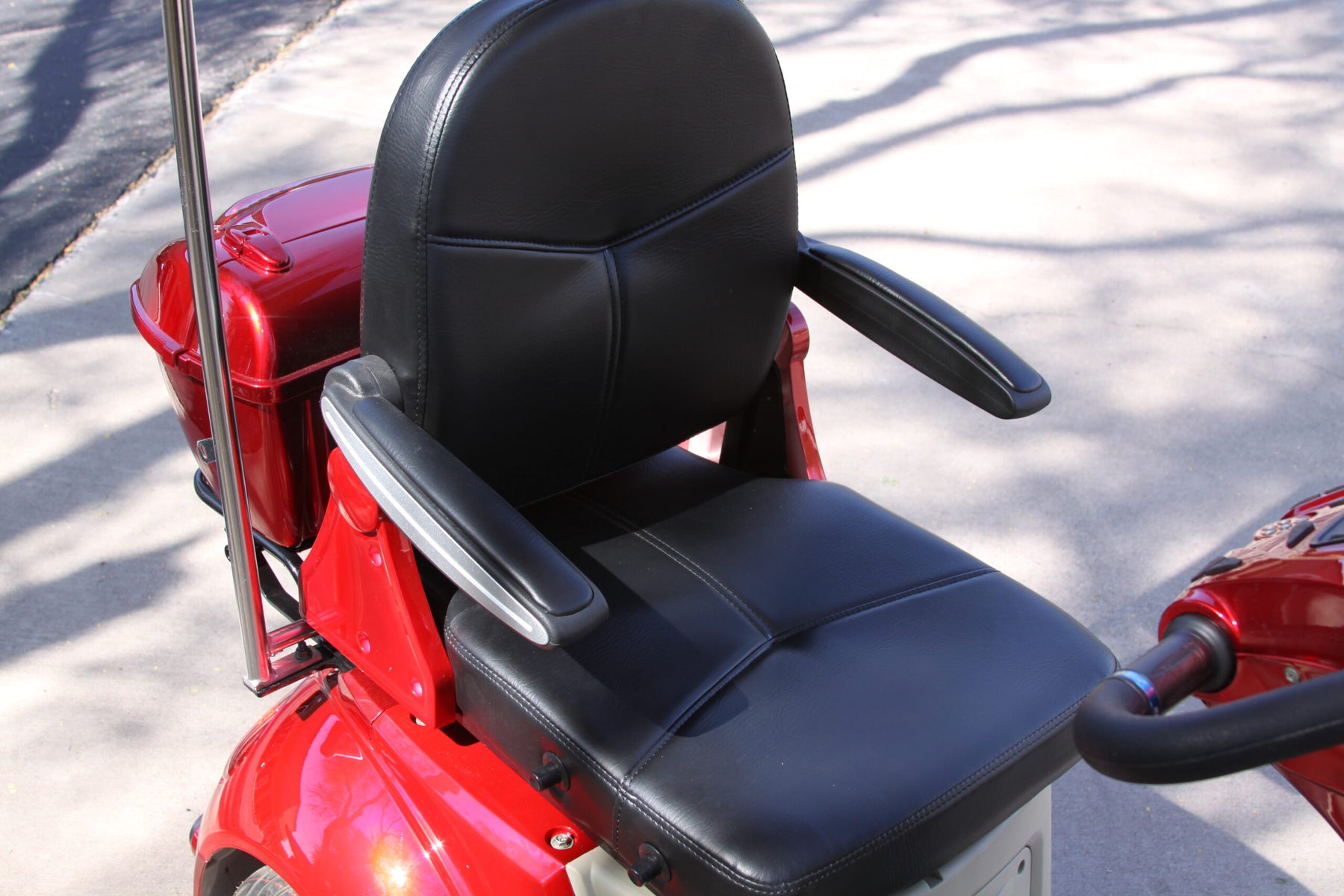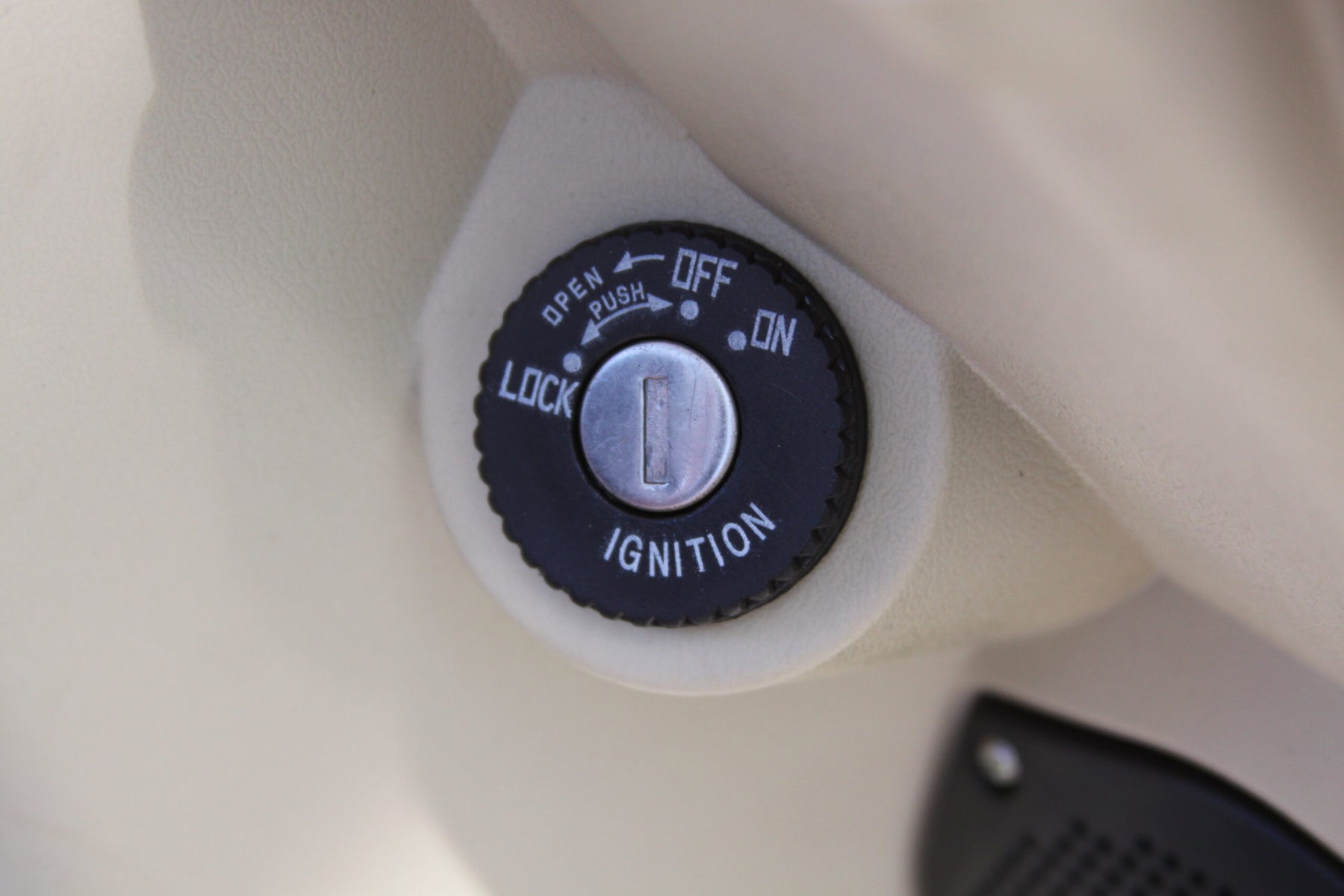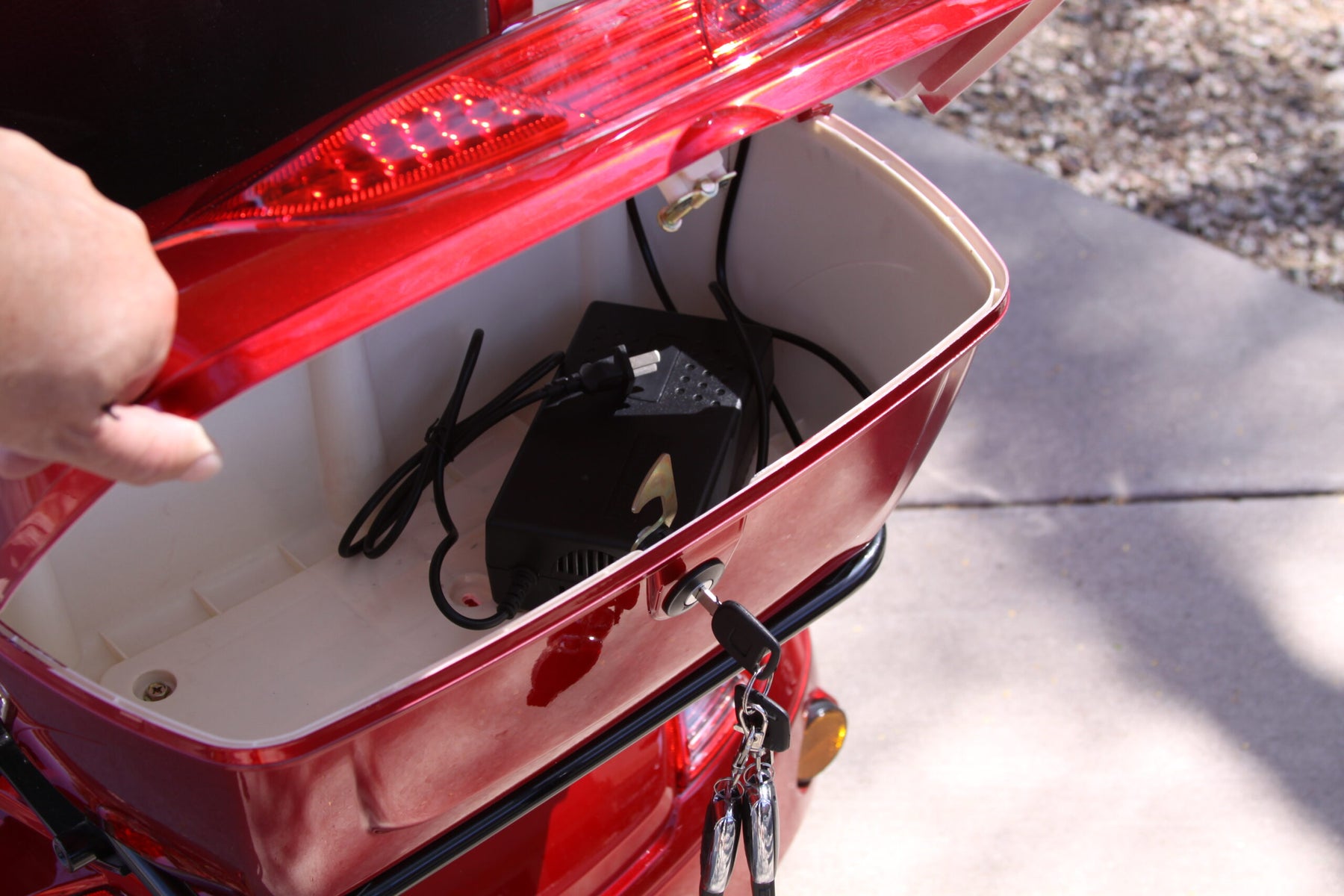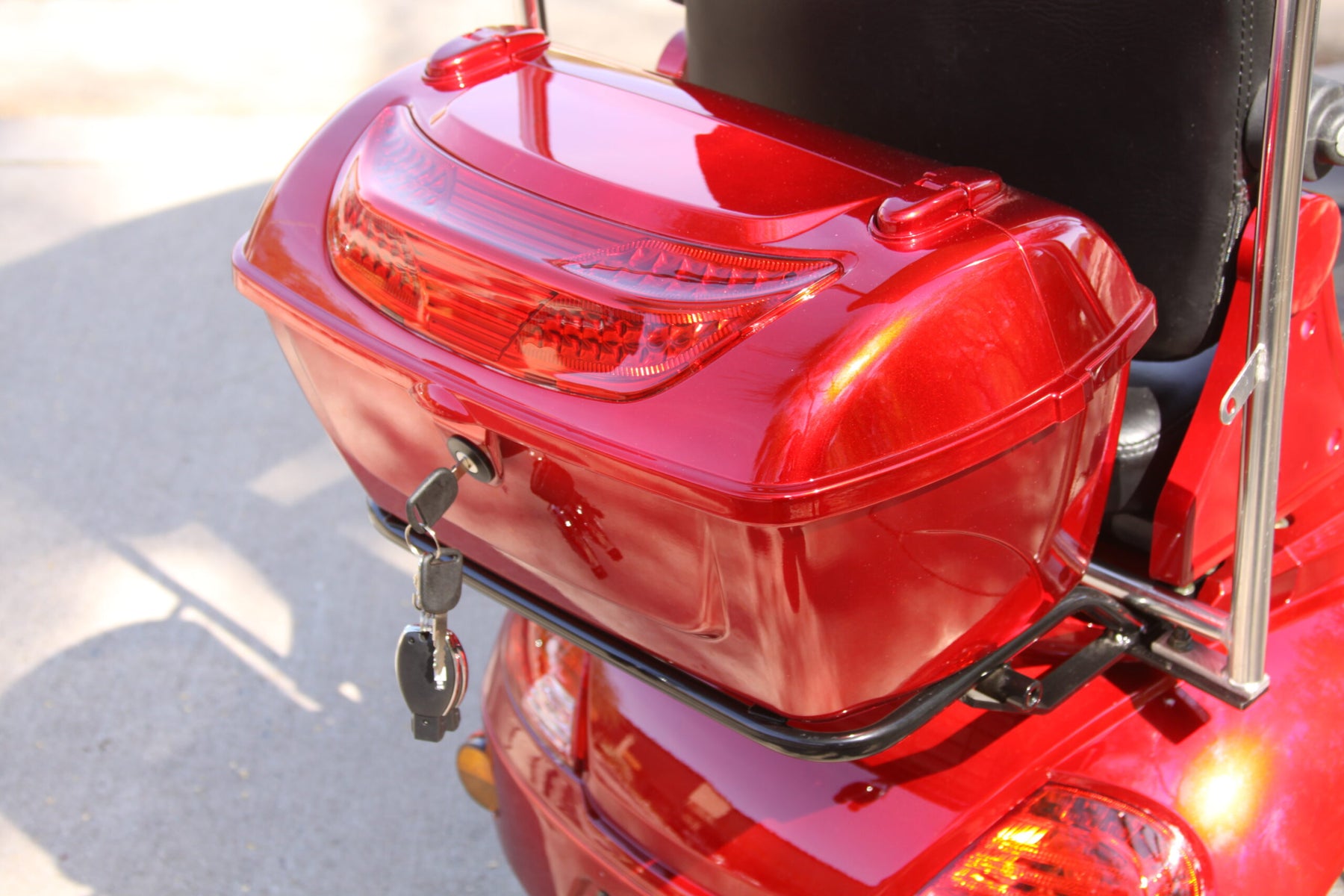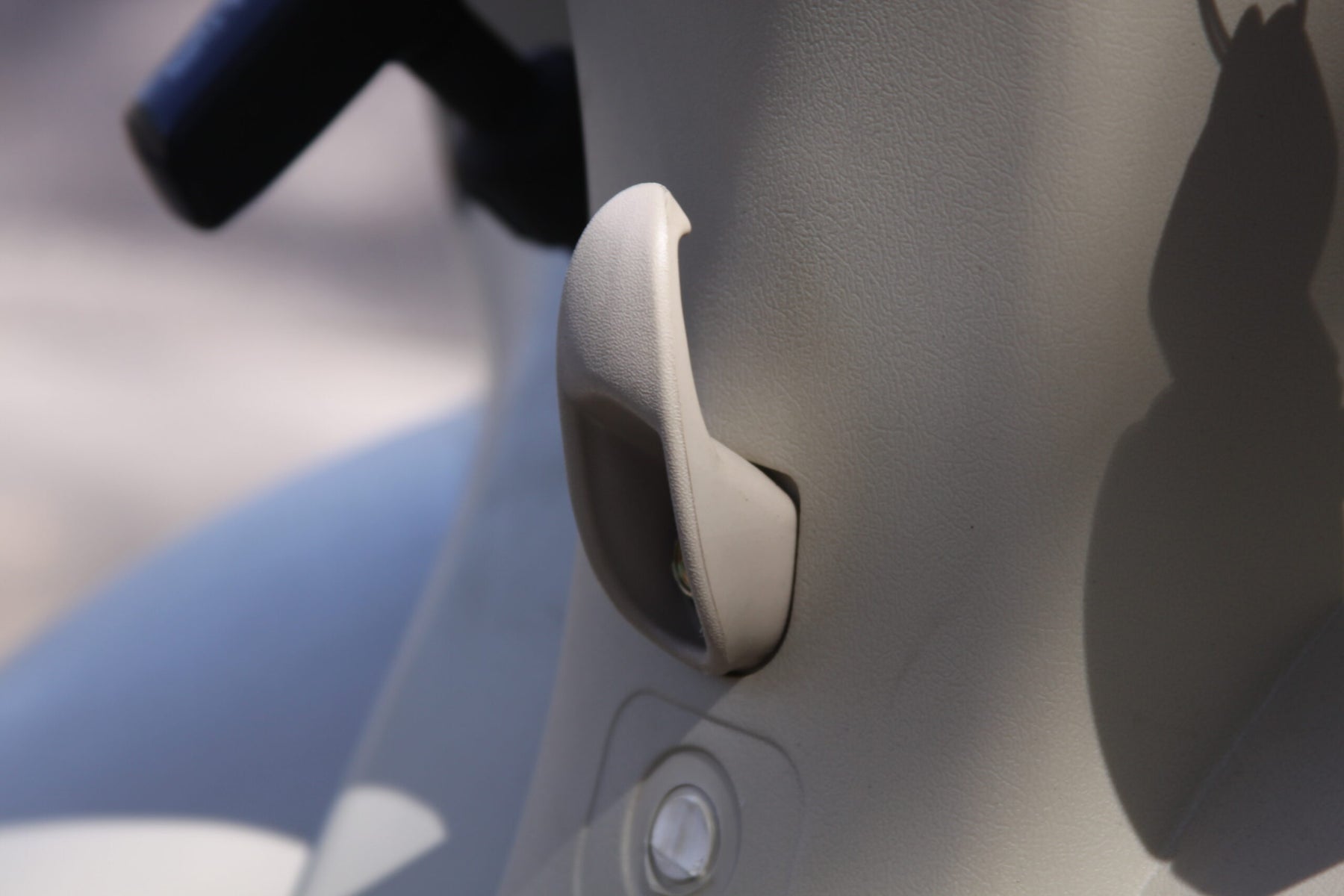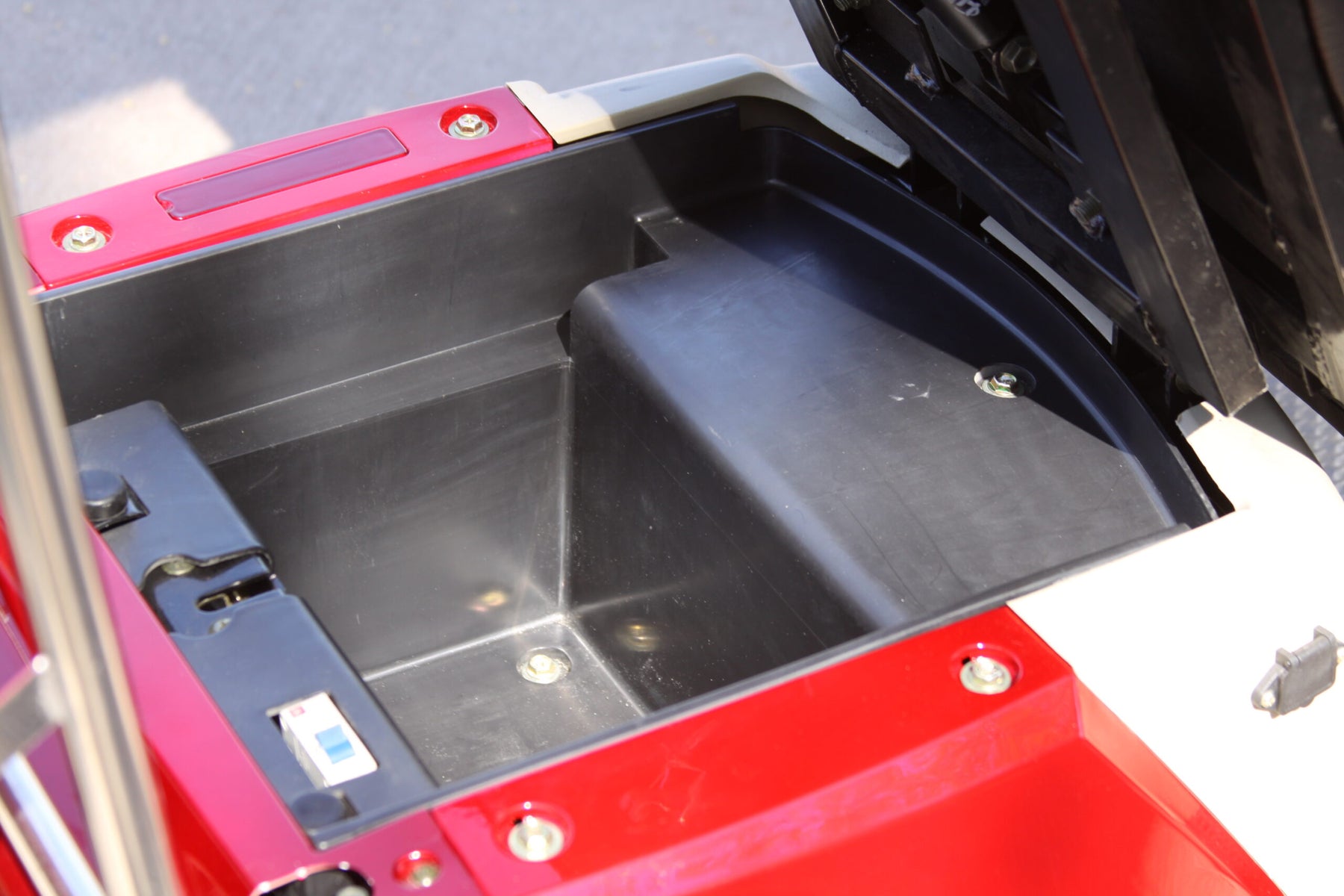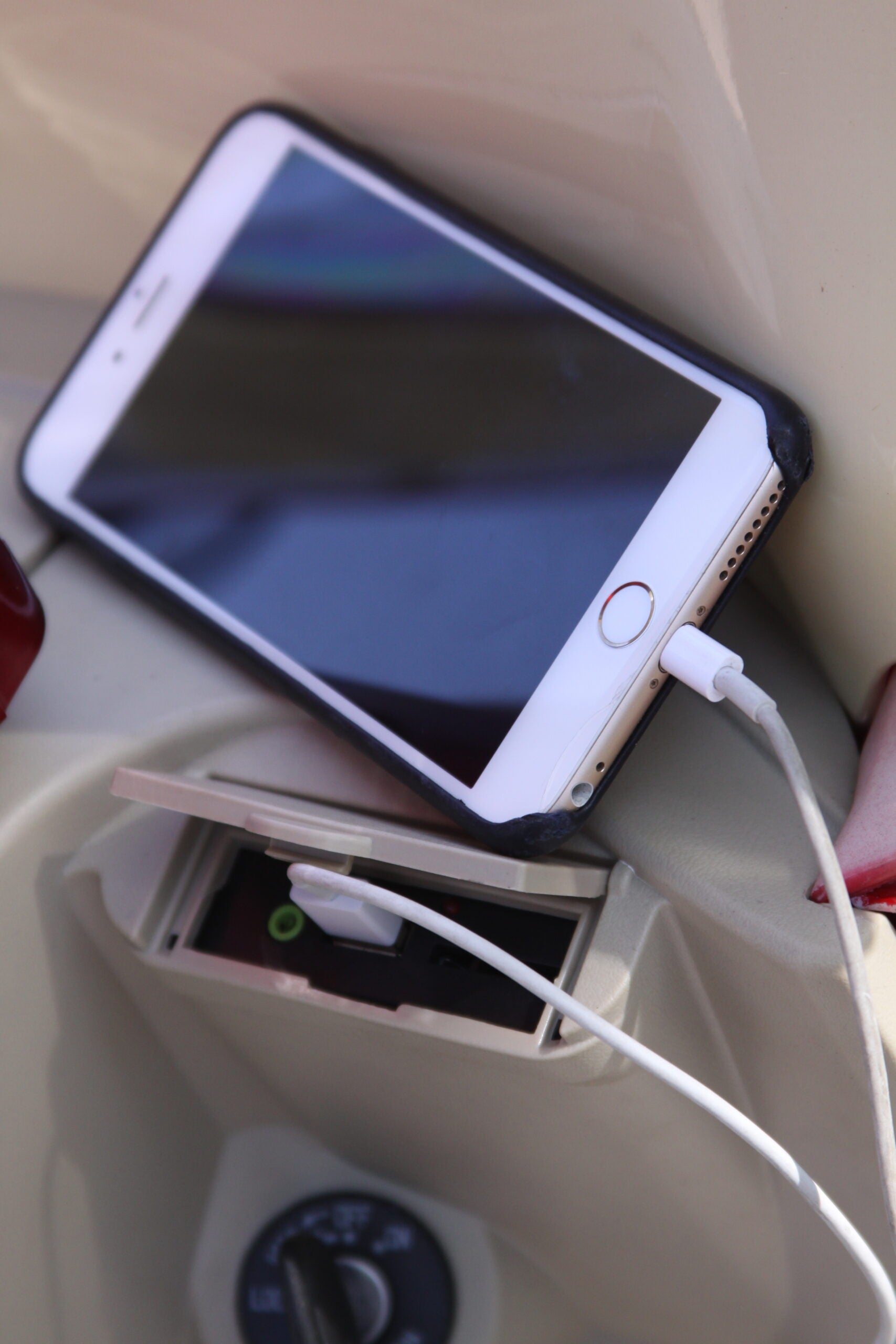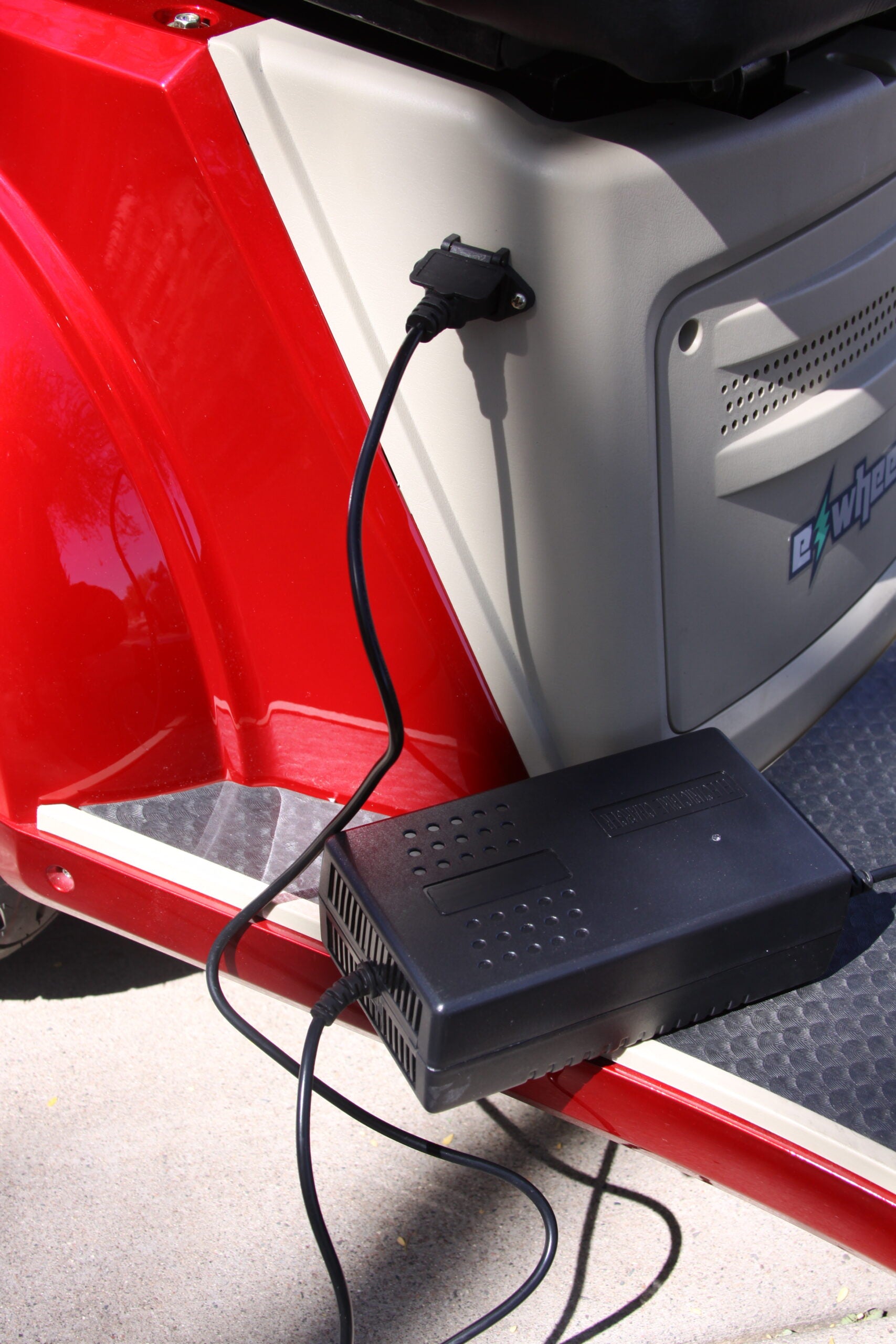 Buggie Designer Fast Mobility Scooter in Green, Orange or Red
The "BUGGIE" has a unique design style, sure to turn heads!
This is the first fast 15mph four-wheel scooter on the market with a color matching FULL COVER TOP and FULL FRONT WINDSHIELD.
This scooter is equipped with a foot brake (like a golf cart), executive seat, folding steering column, digital electric dashboard, USB Port, 2 stereo speakers and music system, cargo box, tubeless tires, cup holder, remote key fob with alarm, 700-watt motor and 60V 20AH batteries.

Specifications:
Scooter Weight Capacity 500Lbs.
Speed: Up to 15mph
Distance: 43 miles per charge (distance varies on terrain, riders weight and road surface etc.)
Front Seat: Type Adjustable chair with backrest
Front seat: Size 22 ½"x17 ½"x23" (LxWxH)
Front Seat: 27" From Ground
Rear Seat: Type No rear seat
Rear Seat: Size No rear seat
Steering Height 41" from Ground
Cargo Box Dimensions: 12"x20"x11" (LxWxH)
Power: Electric Watts: 700 Watt
Motor Type: Transaxle differential brushless
Amps: 20 AH
Volts: 60 Volts
Dimensions: 72" x 27" x 65" (LxWxH)
Floor Clearance: 5"
Front Basket: No Front basket provided
Batteries: (5) Sealed Lead Acid Maintenance Free
Forward/Reverse switch: Yes
High/ Low-Speed switch: (3) Speed switch
Front tire size: 13" Tire Type: 90/65-8
Rear tire size: 15" Tire Type: 120/50-9
Charger: 60-volt Smart Charger included
Throttle Type: Variable Speed Control – Twist throttle
Key Start: Yes
Braking System: Rear drum brakes
Drive System: 700 Watt Brushless Motor
Headlight: 12V Bulb
Rear lights: 12V Bulb
Carton Size: Shipped Fully assembled on Pallet – 80"x36"x73" (LxWxH)
Scooter Weight: 333lbs. with batteries
Battery Indicator: Yes
Front: Front Shock Absorbers
Rear: Rear Shock Absorbers
Reflectors: Yes
Model EW-54 Specifications (Click here to download a PDF)
Increase Your Mobility
Having limited or decreased mobility can make life difficult, but it doesn't have to be.  This specialty mobility vehicle is designed with the user in mind.
Our electric scooters have superior acceleration, torque and handling characteristics.
The quality construction is top-rated and every vehicle is manufactured with the highest quality components.
Features US and International Patents to protect the unique electric systems. These systems are the backbone of the electric wheelchairs and scooters, powering our vehicles with efficient and environmentally friendly, high performance drive systems for recreational or medical use.
Available to ship to USA and Canada.
The below rates exclude NY, NJ, CT, RI, VT, NH, ME, MA, PA, Hawaii, Alaska, Canada, and Floriday Keys, or Any Islands. Please contact us for shipping prices to these locations.
$430 Standard Ground Shipping, (3-5 business days).
Business days are Monday- Friday, excluding federal holidays within the United States.
P.O. Boxes: We cannot ship to P.O. Boxes Military APO / FPO Addresses: We cannot ship to APO / FPO Addresses
Recreational scooters will ship out between 10-14 business days and medical scooters will ship 2-3 business days.
The delivery company will contact you by phone to schedule a delivery date and time window. Typically, there will be a minimum of a four-hour timeframe for the delivery and an adult must be available to accept, inspect, and sign-for the delivery.
​The item will be delivered to your designated shipping address. The freight delivery company is not responsible for unloading the item from the truck or carrying the item into the building.
​Your package is likely to be heavy and large; therefore, we recommend that you have someone with you to help unload the item from the truck. The total charge does not include inside delivery, removal of cartons, or assembly.
When your order is delivered you should immediately inspect the carton for any potential damage that may have occurred during shipment. Carefully inspect the packaging as well as the contents of the package.
Limited Warranty:
ELECTRIC WHEELS products are warranted to the original retail purchaser, when purchased directly from an authorized ELECTRIC WHEELS reseller, to be complete and free from defects in materials and workmanship in the frame and components, except for tires and inner tubes and batteries, for a period of:
​

All electric scooters: 30 days from the date of purchase
EWHEELS branded electric bicycles and Mobility scooters : 90 days from the date of purchase
Specific Warranty Items
Batteries (factory-installed in a ELECTRIC WHEELS bike, scooter or conversion kit) are warranted to the original purchaser to be free from defects in materials and workmanship for a period of (30) days from the date of purchase. The battery warranty does not include damage from power surges, use of improper charger, improper maintenance or other such misuse, or normal wear. Batteries purchased as maintenance or accessory parts are warranted for 30 days from the date of purchase/receipt when purchased directly from ELECTRIC WHEELS.
​Items Not Covered
Warranties are limited to replacement of parts and/or products determined by ELECTRIC WHEELS, at its sole discretion, to be defective. In cases where multiple components are missing, you may be redirected to the retailer for assistance.
ELECTRIC WHEELS Limited Warranty does not cover or apply to the following: Normal wear and tear; any damage, failure and/or loss caused by accident, shipping, misuse, neglect, abuse and/or failure to follow instructions or warnings as stated on the product or in the applicable owner's manual or other printed materials provided with the product; damage, failure and/or loss caused by the use of the product for stunt riding, ramp jumping, competition, off-road use, acrobatics, trick riding or other similar activities, water damage,  or use in any other manner for which such products were not specifically designed.
​This warranty does not apply to any products or components, mechanical and/or electrical, which have in any way been altered from their original configuration by any person. ELECTRIC WHEELS will not be liable and/or responsible for any damage, failure or loss caused by any unauthorized service or use of unauthorized parts.
​The ELECTRIC WHEELS Limited Warranty does not cover or apply to any ELECTRIC WHEELS product used for rental or commercial purposes unless the specific product is designated, labeled or marketed by ELECTRIC WHEELS as acceptable for rental or commercial use.
​The ELECTRIC WHEELS Limited Warranty does not cover or apply to any ELECTRIC WHEELS product sold by a non-authorized reseller or retailer.
​The ELECTRIC WHEELS Limited Warranty does not cover or apply to any replacement, maintenance or accessory parts not sold directly by ELECTRIC WHEELS to the original retail purchaser.