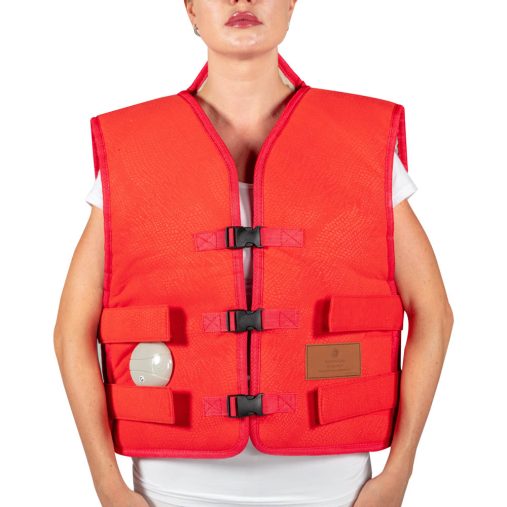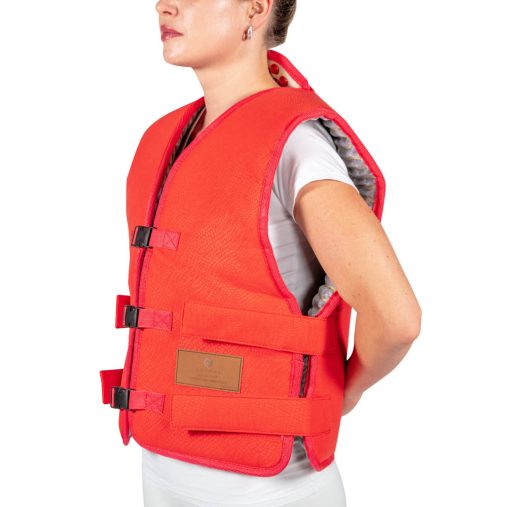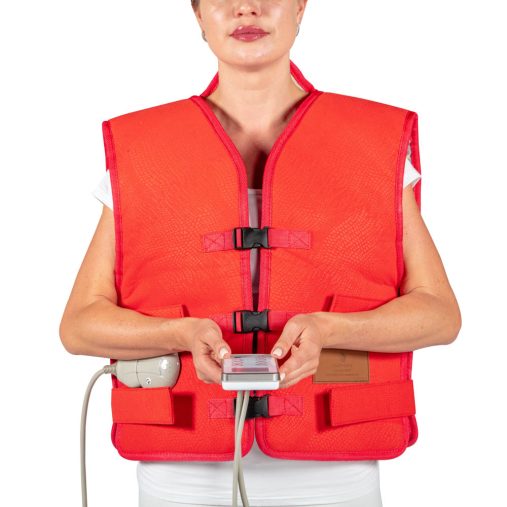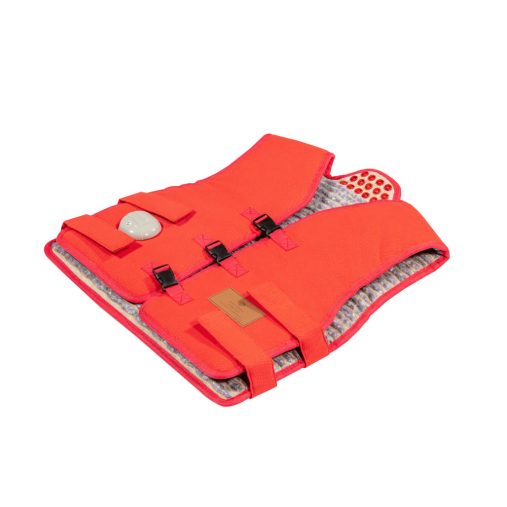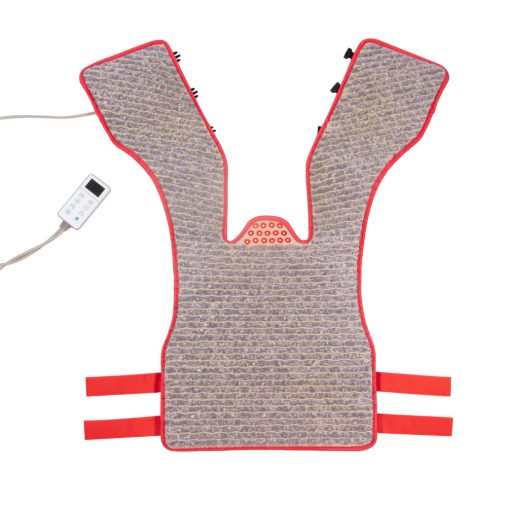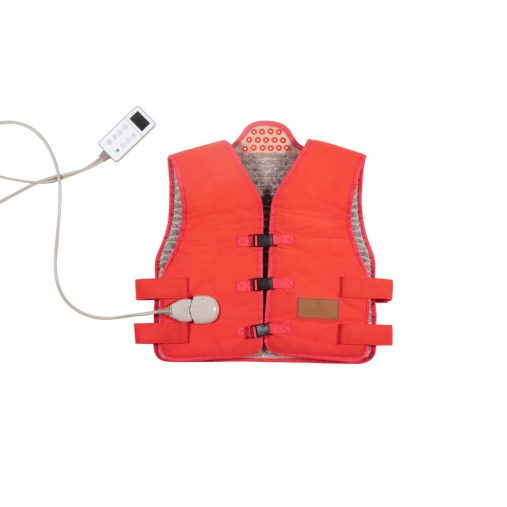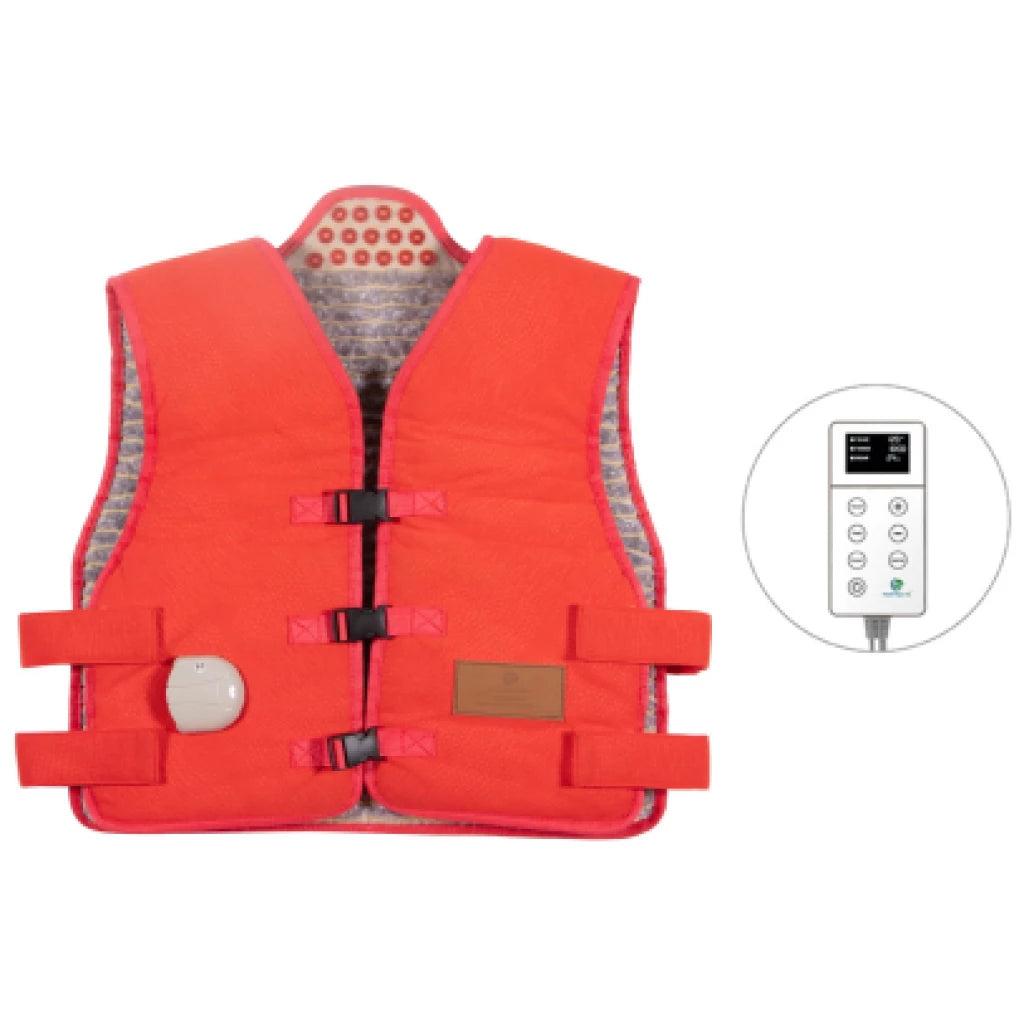 Amethyst Vest Extra Large Soft - Photon PEMF InfraMat Pro®
Wrap yourself in this vest and your body will absorb the rejuvenating power of heated amethyst
There is absolutely no better way to directly treat discomfort in your chest, shoulders, and back. When you wrap yourself in this vest, your body will absorb the rejuvenating power of heated amethyst. When heated, the gemstones release far infrared rays and negative ions.

These two amazing therapies not only reduce pain but also enhance your energy and mood, too! There're even photon lights built into the vest to improve skin health. This model also comes with PEMF therapy - a form of electromagnetic therapy, that promotes an increase in overall well-being, improves the natural body's ability to recover energy, and detoxifies itself.
Receive the all-encompassing support of 5 therapies with this gemstone vest!

The Recommended Uses:
Relieving pain and discomfort in shoulders, chest, and back
Use it while you work or relax
Pros:
Designed to specifically target chest and back
No need to transport a heavy mat
Includes photon light therapy and PEMF
Several pounds of crushed natural amethyst
Very flexible and lightweight
Feel heat wrap around your body
Things to Consider:
Limited to specific areas of healing
Only one gemstone
Not suited for sleeping
12 lb weight
Wired to a power outlet
The Features:
5 lbs. of amethyst gemstones
Relaxing Hot Stone Therapy
Calming Negative Ion Therapy
Deep Penetrating Far Infrared Rays Therapy
Cell Stimulating Photon Light Therapy
Wellness Enhancing PEMF Therapy, 7.8 Hz frequency (same as the earth)
The Specifications:
Approx. Size: 40″ x 22″ x 1.2″ (100 cm x 55 cm x 3 cm)
Approx. Weight: 12 lbs (5 kg); comes with a carrying case
Photon Lights: 15 LEDs (660 nm intensity), operated independently
LED Display Controller: Time and Temperature settings, 9-hour auto-shutoff timer
EMF Protection: Advanced filtration system and extra EMF-blocking layers
Number of layers: Up to 21 functional layers
Materials: High-quality, nontoxic
Voltage: USA power 110-120V, 160W
Understanding the complex natural therapies:
Relax your mind and body with hot stone therapy:
Provides a spa experience in the comfort of your own home
Feel hot stones against your skin as they relax your muscles
Scientifically linked to lower levels of tension and anxiety
Makes the body more receptive to massage therapy and chiropractic work
Heated gemstones release far infrared rays and negative ions
Improves the effectiveness of other natural therapies in your mat
Stone surface impacts pressure points on your body to relieve tension
Manage pain with far infrared therapy:
• The invisible form of light commonly received from sunlight
• Far infrared rays are vital to human life
• Rays penetrate 4-6 inches into the body's tissues
• Can temporarily decrease pain, inflammation, and stiffness
• Temporarily increase localized blood circulation where applied
Negative ion therapy has positive effects on your wellness:
Nature's purifiers—clearing your surroundings of harmful agents
Counteracts positive ion disturbances
Attracts harmful airborne particles and pulls them to the ground
Tourmaline releases the largest quantity negative ions
Guide the body along a path of detoxification of excess waste
Cleanse your mind; improve the quality of your wellness
Light up your life with photon light therapy:
• Uses visible red lights at a wavelength of 660 nanometers
• Penetrates just below the surface of your skin
•Benefits are obtained when photon lights are applied through thin clothes or cover. For maximum effectiveness lights should contact directly with skin
• Beneficial for managing energy levels
• Assists directly with the mitochondria, the part of the body that makes proteins and collagen
• New cells destroy old cells, helping with detoxification and wellness
Warranty:
5 Year Extended Warranty
Receive a new replacement device for any manufacturing issues that occur in 5 years*. *Conditions apply