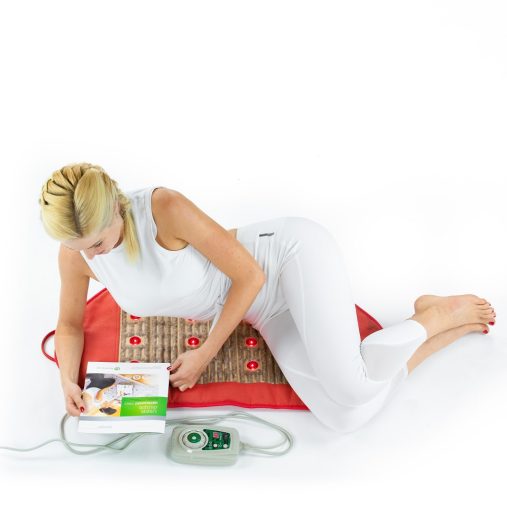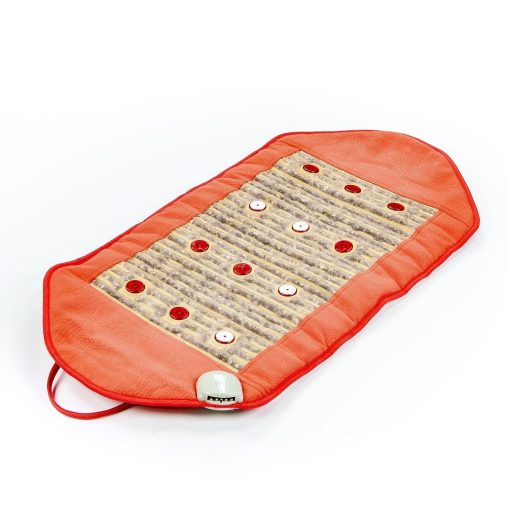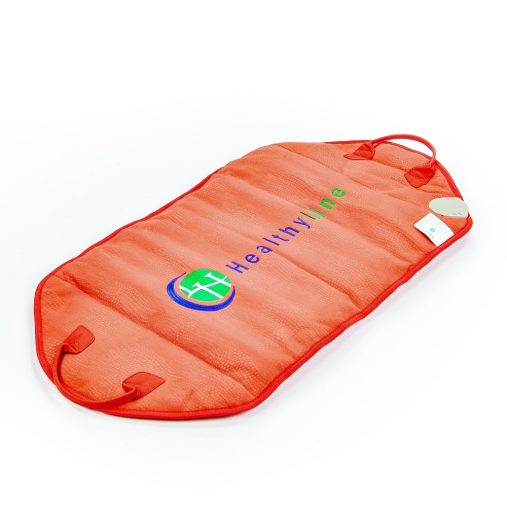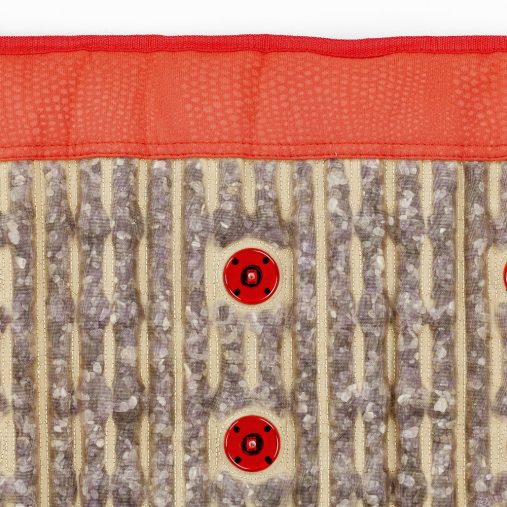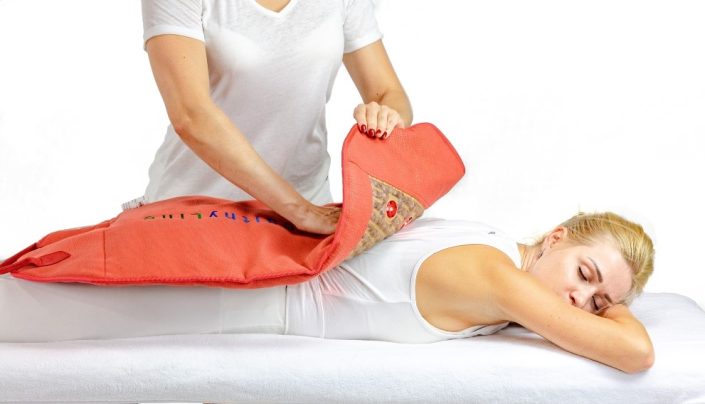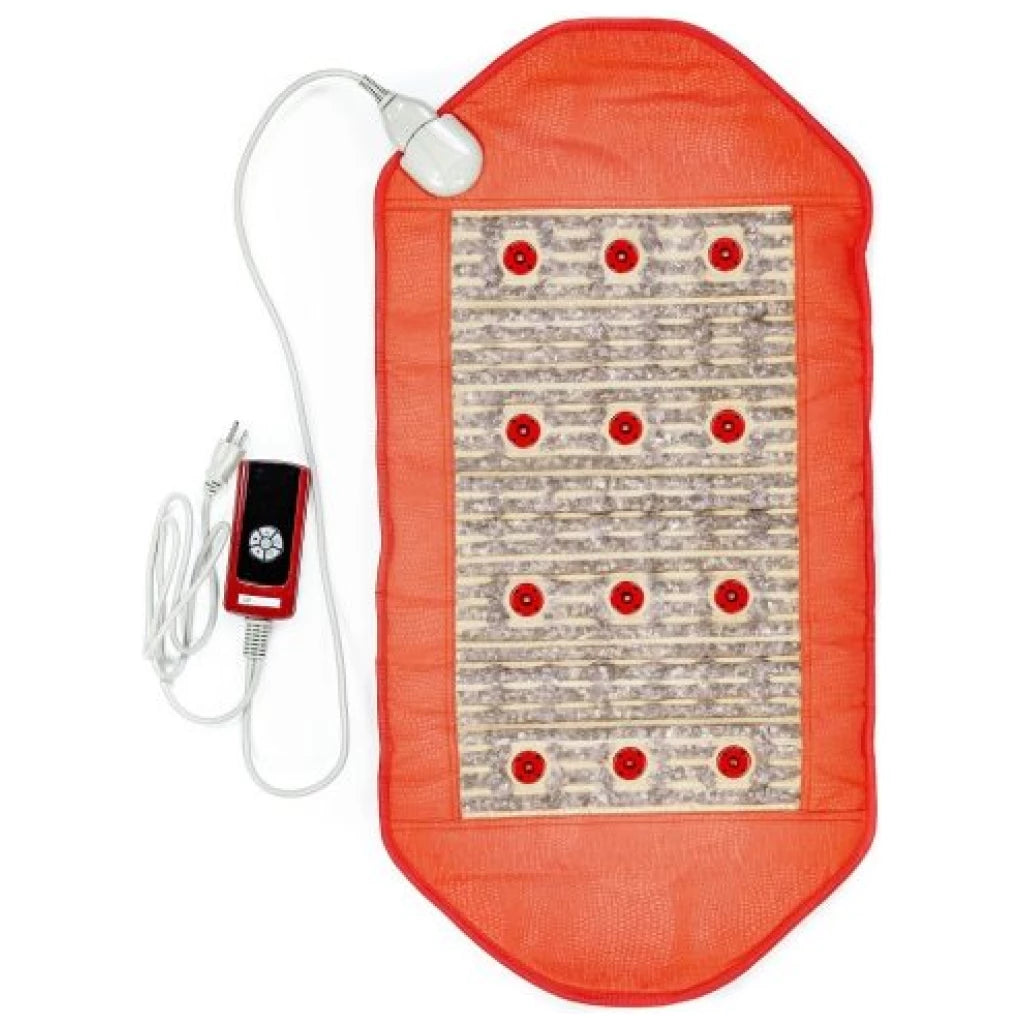 Amethyst Pad Medium 3618 Soft - Photon InfraMat Pro®
Ideal for stomach and back pain
This Soft Heat Medium Photon Therapy Pad is designed to comfortably wrap around the curves of your body.  Consisting of entirely crushed amethyst gemstones, it boasts enhanced flexibility and comfort with each use. Amethyst is a great natural stone with a history of providing a calming effect. This model is ideal for targeting stomach or lower back pain with deep penetrating heat to relax muscles, relieve aches, and more. As a result of the deep penetrating heat, this mat is beneficial for internal pains and discomfort.

This model also comes with the added feature of photon light therapy. In fact, this is one of the most affordable models we offer with this advanced therapy. Photon LED's emit visible red light that promotes accelerated detoxification and cell growth. Rid your body of excess waste, harmful toxins, and heavy metals to improve the way you feel.
Pros:
Medium-sized mat with extra benefits
Comes with photon LED lights
Very flexible and lightweight
Can be applied easily to afflicted areas
Comes with amethyst gemstones
One of the most affordable models with photon lights
Things to Consider:
NO PEMF therapy
Too small for full-body therapy
Not ideal to sleep overnight
No tourmaline or jade
The Features:
5 lbs of crushed natural amethyst gemstones
Negative ion levels of at least 700/cc
Far infrared levels of at least 5-14 um
Photon light at a wavelength of 660 nm (Operated independently)
The Specifications:
Approx. Size: 36″ x 18″ x 1.2″ (90 cm x 45 cm x 3 cm)
Approx. Weight: 10 lbs (4.5 kg); comes with a carrying case
LED display controller: Set temperature up to 70 °C (160 °F), 8-hour auto shutoff timer to allow all-night sleep setting
Number of layers: up to 21 functional layers
EMF Protection: Advanced filtration system and extra EMF-blocking layers 
Materials: High-quality, nontoxic
Voltage: USA power 110-120V (available in 220-240V upon request), 100W
Trial Period: 90-day trial for free returns (shipping cost not included)
How beneficial gemstones are for internal pains and discomfort
This mat contains multiple layers that regulate the complex wellness-enhancing experience. These layers do things such as generate penetrating heat, regulate temperatures, and make your mat more durable.
The next step in the process is embedding the mats with pounds of pure natural gemstones. When heated, these gemstones release far infrared rays and negative ions that penetrate deep into your body's core.
These processes assist in normalizing your body's functionality. This also guides your body into a state that is more receptive to other forms of therapy. This is where the inclusion of photon lights becomes beneficial. When all these therapies work together, they continuously help maintain improved levels of wellness.
Warranty:
5 Year Extended Warranty
Receive a new replacement device for any manufacturing issues that occur in 5 years*. *Conditions apply