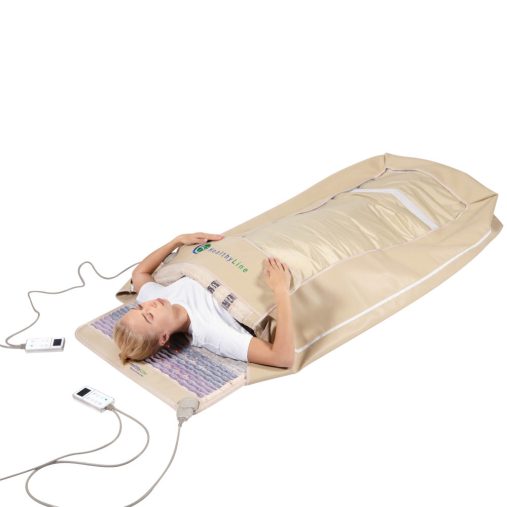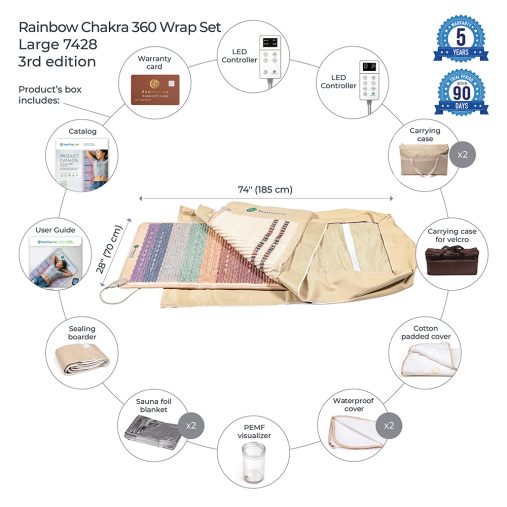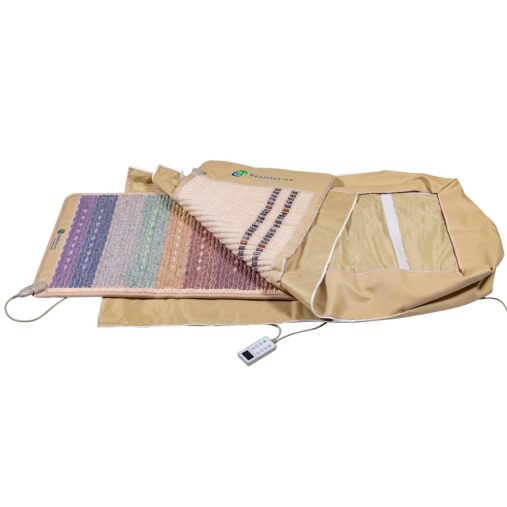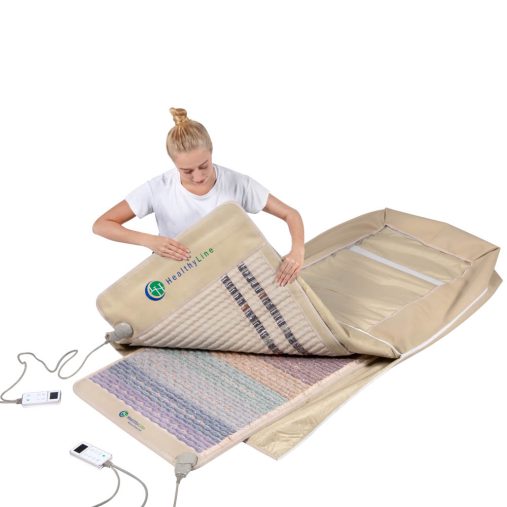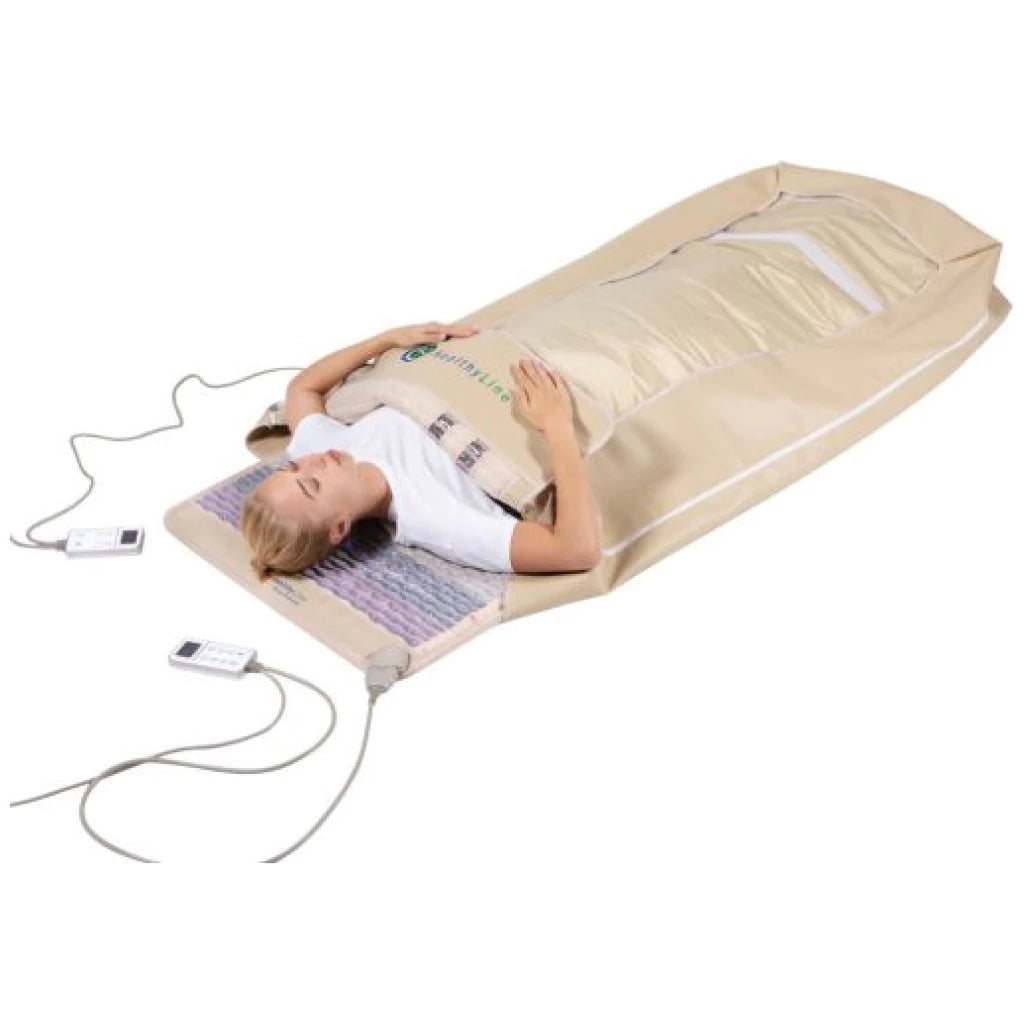 360 Wrap Set™ Rainbow Chakra Mat Large 7428 - Photon PEMF Inframat Pro®
Envelop yourself in 5 natural therapies 
The Rainbow Chakra 360 Wrap Set is the latest innovation in chakra healing that combines two mats in one set. When you enter the wrap set, the bottom mat is made up of 7 distinct gemstones that connect with and rebalance each of the 7 chakra points within you. This provides a state of spiritual awakening and improved energy flow throughout your whole being. The surface consists of our Photon light therapy that can be set to a full spectrum of colors for enhanced chakra healing as well as improved skin health. The bottom mat also includes far-infrared heat, negative ions, and PEMF therapy to provide a truly holistic approach to improved wellness not found anywhere else.
The 360 Wrap Set also comes with our SOFT mat that is placed on top of you, letting you obtain even more benefits. When both mats are enclosed with our leather encasement, it insulates our far infrared therapy to allow you to sweat out toxins and cleanse your entire body while you rest comfortably inside. You can even use both mats individually, but the greatest benefits come when the Rainbow Chakra 360 Wrap Set is used as one solution.
Discover the solution for improved mental, spiritual, and physical wellness with the Rainbow Chakra 360 Wrap Set!
The Features:
2 lbs of Amethyst, 2 lbs of Sodalite, 4 lbs of Blue Lace Agate, 2 lbs of Green Aventurine, 2 lbs of Yellow Aventurine, 2 lbs of Carnelian, 2 lbs of Red Jasper
Tension and Muscle Relaxing Hot Stone Therapy
Calming Negative Ion Therapy, Range up to 700/cc
Deep Penetrating Far Infrared Rays Therapy, Range of at least 5-14 um
Wellness Enhancing PEMF Therapy, 7.8 Hz frequency (same as the earth)
Natural Chakra Balancing and Cleansing Therapy
Photon light wavelengths (117 LEDs): Purple – 450 nm, Light Blue – 460 nm, Blue – 490 nm, Green – 550 nm, Yellow – 590 nm, Orange – 620 nm, Red – 660 nm
The Specifications:
Approx. Size: 74″ x 28″ x 1.2″ (185 cm x 70 cm x 3 cm)
Approx. Weight: 40 lbs (18 kg); comes with a carrying case
LED Display Controller: Time and Temperature settings
EMF Protection: Advanced filtration system and extra EMF-blocking layers
Number of layers: Up to 21 functional layers
Materials: High-quality, nontoxic
Voltage: USA power 110-120V (available in 220-240V upon request), 250W
The world's greatest chakra cleansing and balancing support device
This mat is perfect for any and everyone looking to channel an inner awakening.
TheRainbow Chakra Mat is uniquely designed unlike any other model to enrich and enhance spiritual energy through the use of natural therapies and facilitates essential processes needed to achieve spiritual enlightenment.
The surface of the mat consists of pounds of 7 different natural gemstones. These gemstones become a heated surface to lie on that works to release tension all throughout your body.
This maximizes your comfort and focus. Complete relaxation is vital to establishing a connection with your spiritual energy. Additionally, the heat of the Rainbow Chakra Mat will assist with detoxification and cleansing of the body through excessive sweating.
The Rainbow Chakra Mat 7428 Inframat Pro® is excellent chakra alignment for individuals of all sizes. This model incorporates far-infrared, negative ion, photon therapies, and PEMF, and can be used on a bed, massage table, or floor. The pulsed electromagnetic field system will release a frequency that removes any electrical interference clouding your chakras and disrupting your physical well-being.
Keeping your body pure will expand your self-awareness. Finally, the therapies of the Rainbow Chakra Mat all come from nature, and as a result, will assist you in connecting with it. The heat releases far infrared rays, which is the same energy found in sunlight.
The PEMF system emits the same magnetic frequency as the Earth. This 7.8 frequency is compatible with the human body's natural biorhythm. When you focus and relax with the Rainbow Chakra Mat, you empower your mental fortitude and expand your consciousness.  Its dimensions are 74"x 28", the same as our professional models.
That means that it fits standard massage tables. Many massage therapists, Reiki masters, and other healthcare professionals implement the Rainbow Chakra mat into their routines to improve the effects their clients receive from their sessions.
Whether you want the Rainbow Chakra Mat for personal or professional use, physical, mental, and spiritual rapture awaits you.
Warranty:
5 Year Extended Warranty
Receive a new replacement device for any manufacturing issues that occur in 5 years*. *Conditions apply