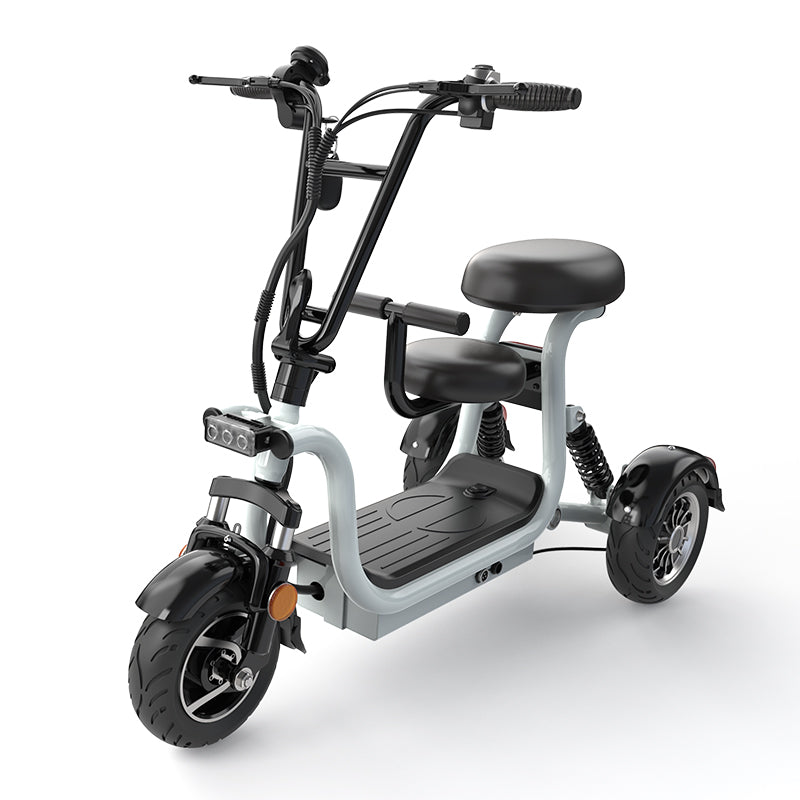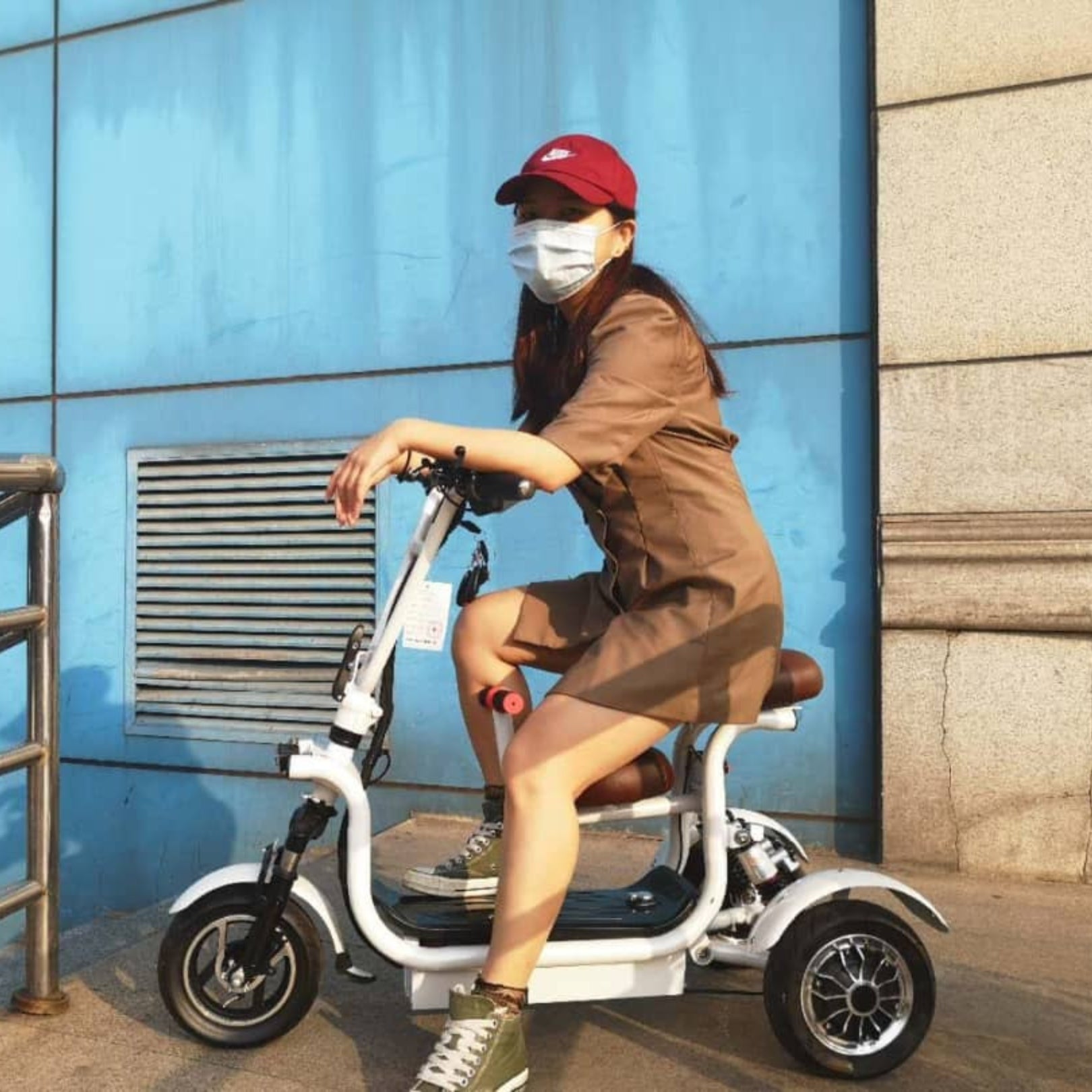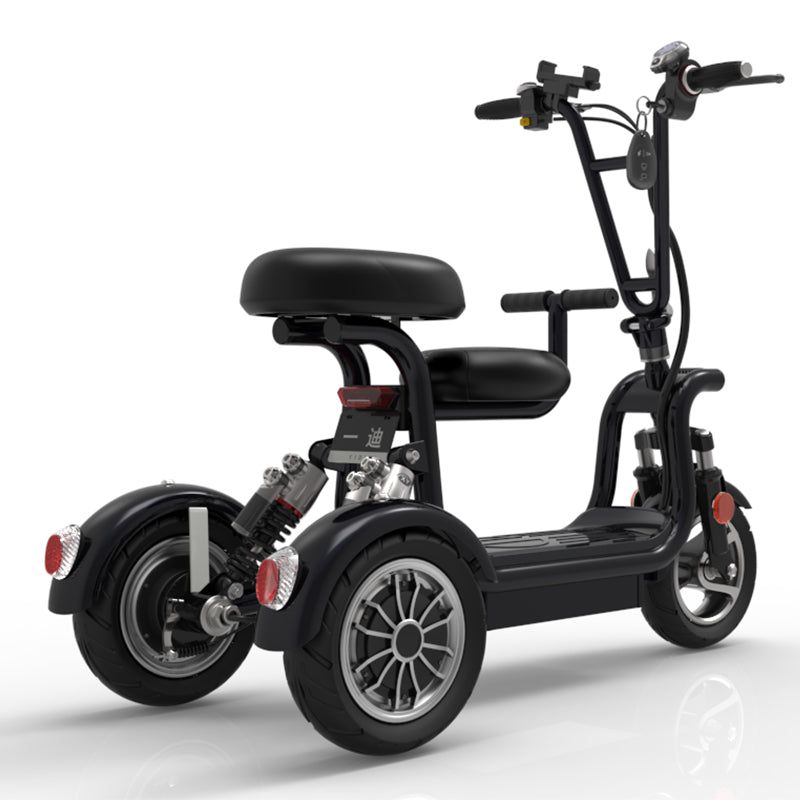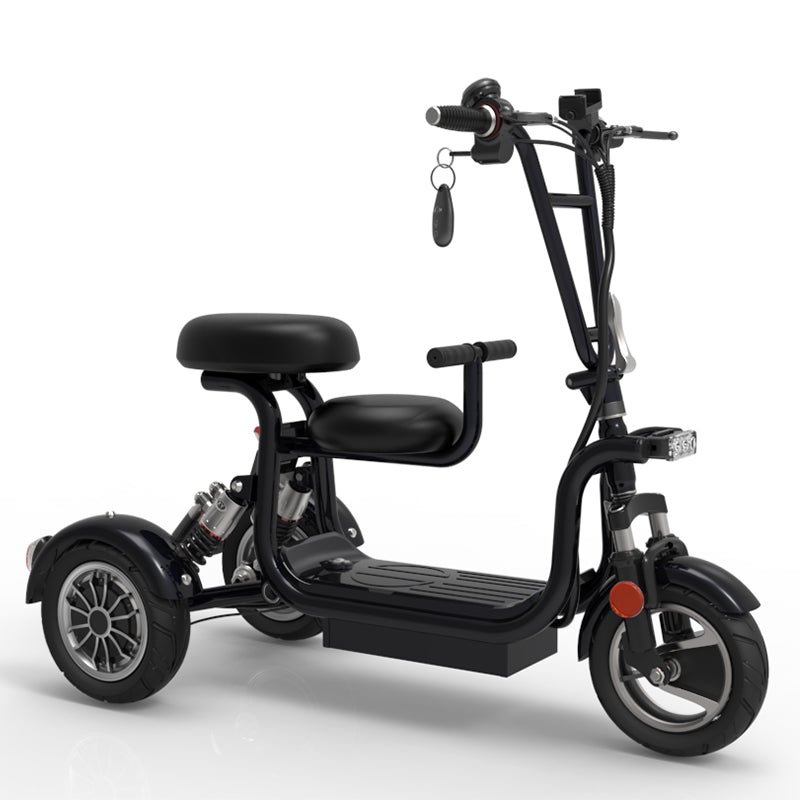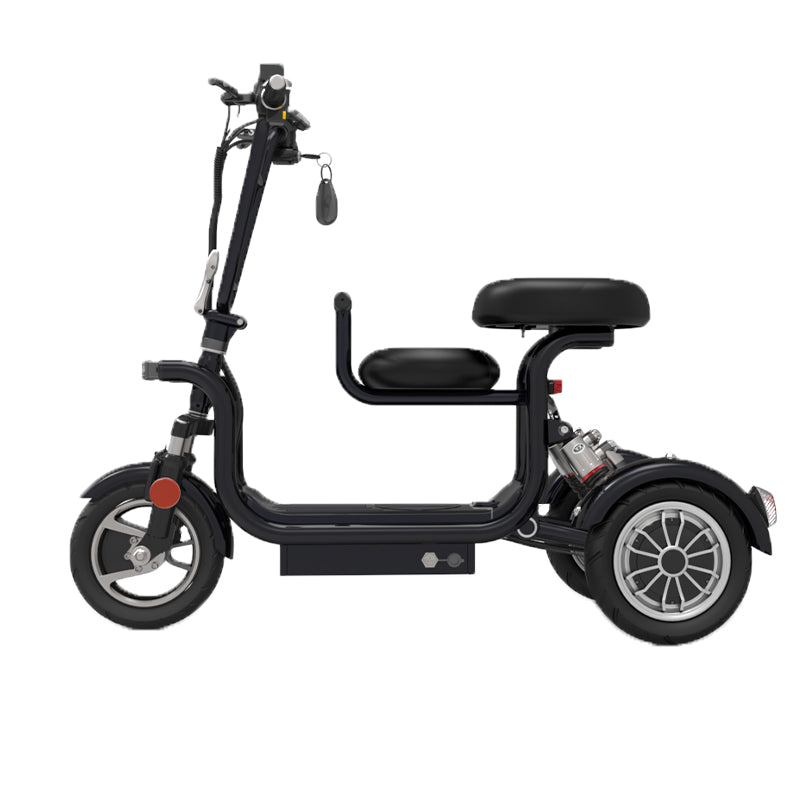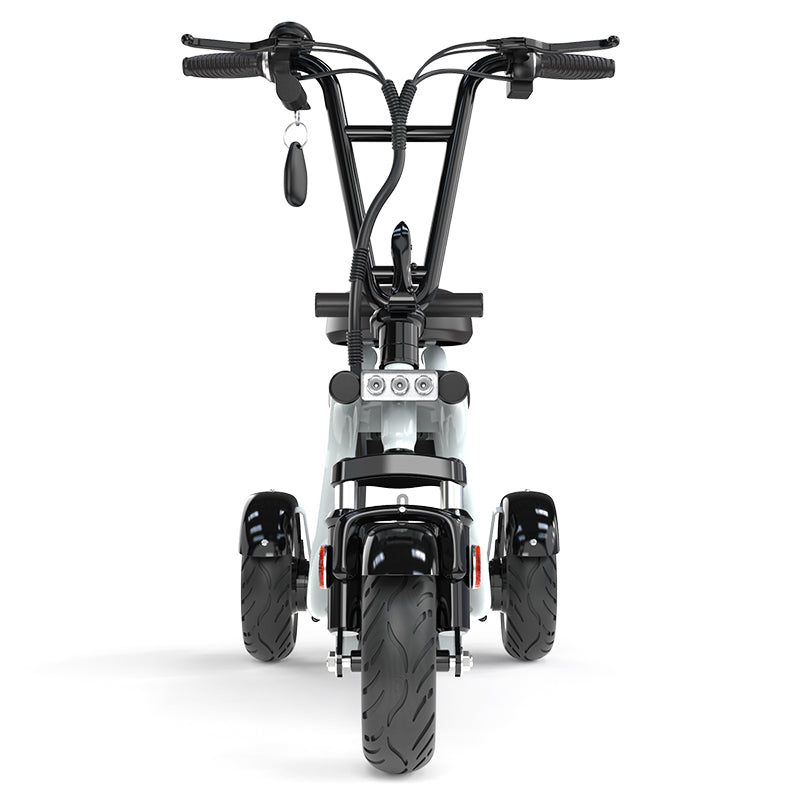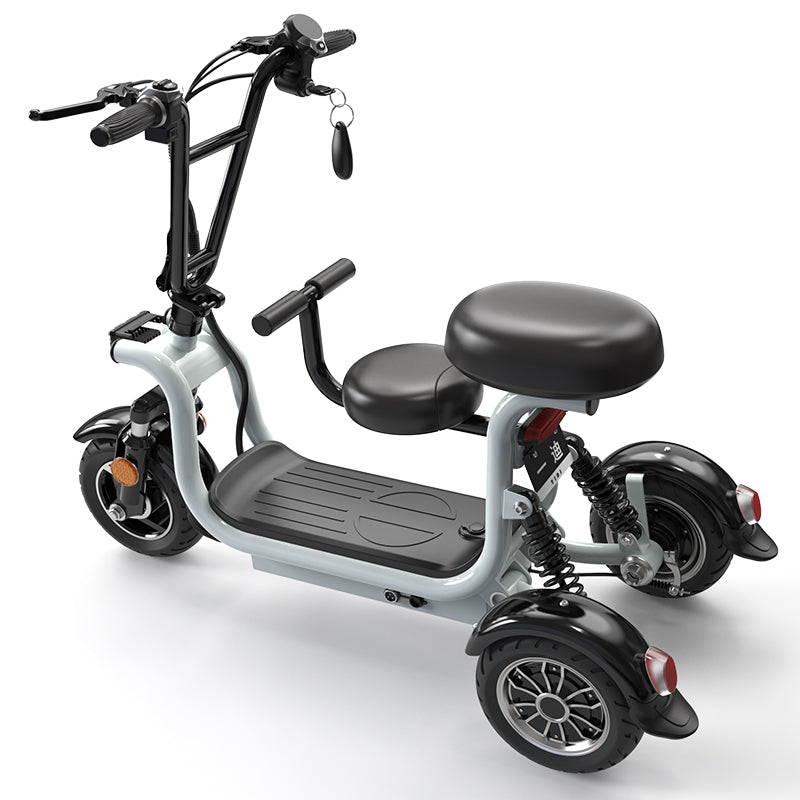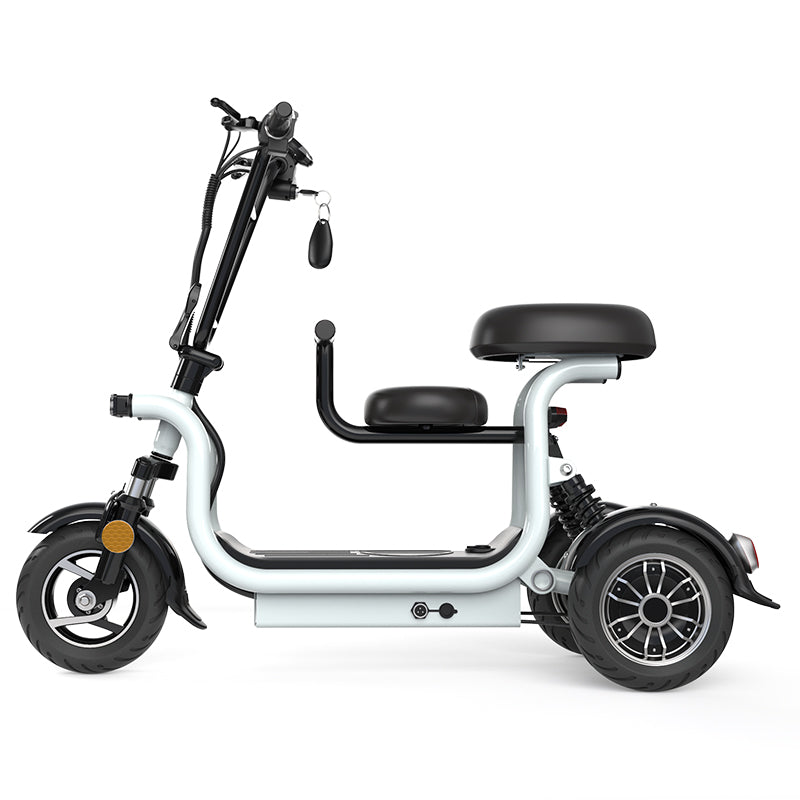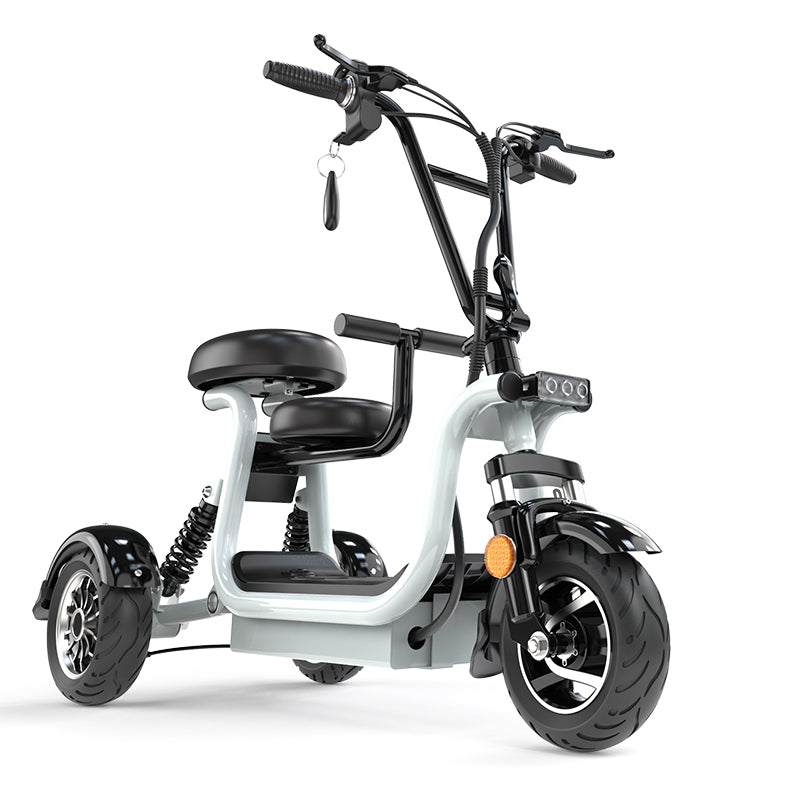 Three Wheel Dual Seat Luxury Mobility Scooter
Three Wheel Dual Seat Luxury Mobility Scooter
With a range of between 13 miles/21km right up to an incredible 32.9 miles/53km (depending on the battery), this Three Wheel Dual Seat Luxury Mobility Scooter really provides a considerable travel range from your home. Its 48V*400W brushless rear motor provides a serenely silent riding experience.  The unique dual seating provides a capacity for two people. 
Given its battery range, this scooter is ideal for those who may not be able to drive through incapacity or lack of license.  Also, with a maximum speed range of 15.5 - 21.75 mph/25-35km/h, you can get to your local shops in no time at all. 
Despite its speediness, this scooter is incredibly safe.  Its rear drum brakes provide you full control over your speed, so you can travel with confidence.  Its LCD display is very easy to read, so you know exactly how fast you're going, and how much battery life you have left. 

If you've arrived at this page thinking of buying a scooter for the first time, this will be your ideal starter scooter! It's very easy to operate, has a small folded size, and is a breeze to recharge.  This truly is a no-fuss mobility scooter that will allow you to travel up to 16.16 miles/26km from your home if you use the largest battery. 

With a shipping time of just 10 to 15 days, a new world of mobility will be yours not too long after your order!
Specifications
Frame: High carbon steel frame
Tires: 10"
Front brake: 0 rear drum brake
Motor: 48V*400W brushless rear motor
Battry: Chinese battery(portable)
Controller: 48V 
Power display: LCD color display        
Maximum speed: 25-35km/h
Net Weight: 26.24kg
Gross Weight: 45kg
Unfolded Size: 115*62*98cm
Folded Size: 115*62*62cm
Wheel Base: 87cm
Shipping Time: 10-15 days including handling time
Free Shipping Worldwide
---
T&C'S AND WARRANTY

When you need to return the parts and repair them, please contact us firstly. We aren't able to deal with your warranty request without confirmation from our customer service team.

Any item returned to us should include a short note as to why it's back and your details (name, contact number, original order number & where it was purchased from). This will make it easier for us to process the item and lead to a quicker resolution. 
The courier company will refuse to collect it if it is not packaged appropriately e.g. securely boxed to prevent damage in transit.

NOTE: This information is very important- any problems just get in touch!

We offer a warranty covering the following items on your e-bike :
 
Part Name

Warranty scope

Warranty period

Service Content

Freight 

The main frame

Welding, desoldering, and fracture

12 months

Replacement for free

AA

Battery

The battery cannot be charged or Undervoltage

12 months

Rree battery replacement for the first month,and repair it for free in the next 11 months.

AA

Hub motor 

Malfunction

12 months

Repair for free

AA

Controller

Malfunction

12 months

Replacement for free

AA

Handle bar/Mudguard

Welding, desoldering, and fracture 

6 months

Replacement for free

AA

LED headlights/Rear lamp/Horn

Malfunction

3 months

Replacement for free

AA

Shock absorber/ Footrest/Kickstand

Fracture and damage

3 months

Replacement for free

AA

Charger

Malfunction

3 months

Replacement for free

AA

Handlebar dashboard/Electric brake levers (excluding brake shoes, callipers and pads)

Malfunction

3 months

Replacement for free

AA

Multi-functional Switcher

Malfunction

3 months

Replacement for free

AA

Tyre

Cracking, bulging

3 months

Replenishment

Sales team

Screws

Lose

Within 24 hours after signing

Replenishment

Sales team

Free gifts

Omission

---

---

---

1.The warranty period for the product starts on the date of your purchase.

2.The warranty only covers technical faults which have not been in anyway caused by the user deliberately or accidentally.

3.YIDI will only provide free replacement parts. We do not reimburse any labor costs incurred by the repair service.
Exceptions to limited Warranty

The YIDI warranty excludes damage or defects under the following circumstances:

1. Abnormal use, lack of maintenance, accidental damage, prolonged exposure to moisture or liquid as well as non-compliance with guidelines for maintenance and servicing as stated in the YIDI manual that is supplied with each e-bike.
2. Damage caused by incorrect maintenance.
3. External factors such as electric shocks, lightning storms, current surges, short circuits, etc.
4. Damage caused by excess exposure to the elements e.g. rust caused by not storing the e-bike in dry conditions.
5. Damage caused by the addition of paint, varnish and bike graphics.
6. Wear and tear through normal usage of parts such as tyres, brake pads, brake cables, spokes, handle bar grips etc.
7. E-bike electrical parts
① Modification of electrical components or any modifications e.g. additions not included when purchased.
② Over Voltage: Connecting a battery larger than 48 volts can damage the controller, wires and/or connectors. Damaging any kit component or motor by connecting the wrong battery type will void the warranty. 
③ Water Damage: The warranty does not include damage from power surges, use of improper charger, improper maintenance or other such misuse, or normal wear. The YIDI electrical parts should never be submerged in liquid or left in the rain for prolonged periods.

Terms and Conditions

We do not share customer details with any 3rd parties.

Postage costs of all returns are to be covered by the buyer.

Delivering items back to your dealer for repair will be at your own expense. You are, therefore, recommended to follow the troubleshooting instructions on your user manual as much as you can to identify the faulty parts and send them separately for replacement.

Those parts and/or products which are determined by YIDI to be defective and to qualify for warranty replacement will be provided at no charge, only after a valid warranty claim is processed by YIDI.

Warranty claims must be made by the original purchaser by contacting the original YIDI dealer within the warranty period.

Shipping & Handling fees will apply to all orders placed for warranty parts and/or products and will be invoiced to the customer/warranty claimant prior to said parts and/or products are shipped from YIDI.

YIDI, at its sole discretion, has the option of replacing with a new part, or factory re-certified part. The Limited Warranty stated herein is in lieu of and expressly excludes all other warranties not expressly set forth herein, whether expressed or implied by law or otherwise, including, but not limited to, any warranties for merchantability and/or fitness for any particular purpose. YIDI shall in no event be liable or responsible for incidental or consequential losses, damages or expenses in connection with their products. The liability of YIDI hereunder is expressly limited to the replacement of goods complying with this warranty or at the sole discretion of YIDI  to the repayment of an amount equivalent to the purchase price of the product in question.

NOTE: Damaged caused by water, dropping or any collision is not covered by the warranty offer.